Red, Blu, White and Denim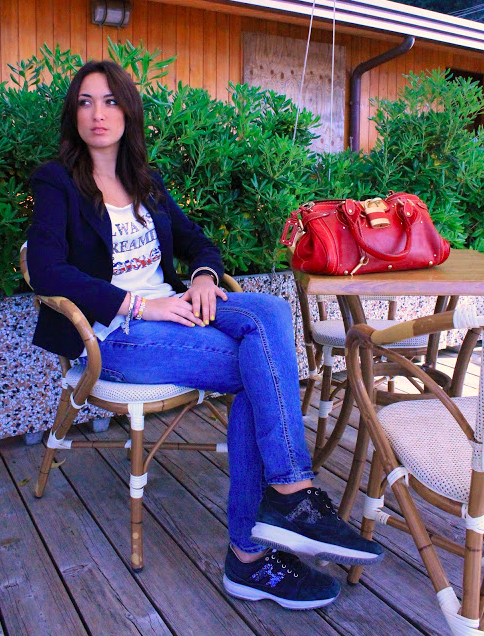 A simple and comfortable outfit to spend all day away from home… White T-shirt with print and light denim of the new collection of Giorgia & Johns (I'm in love with these jeans, has a perfect fit!), Artigli dark blue jacket, Hogan shoes and big red bag by Chloè. I chose gold and colors accessories, including also two of Cruciani. I really like this look and the three key colors of which it is built: blue, red and white. What do you think? I am sending you a kiss and good week!
Un Outfit semplice e comodo per trascorrere un'intera giornata fuori casa… T-Shirt bianca con stampa e denim dal lavaggio chiaro della nuova collezione di Giorgia & Johns (mi sono innamorata di questo jeans, ha una vestibilità perfetta!), giacca blu scuro di Artiglii, scarpe Hogan e maxi bag rossa by Chloè. Gli accessori li ho scelti rigorosamente in oro e colorati, tra quelli indossati ci sono anche i due di Cruciani. Mi piace molto questo look e i tre colori chiave su cui è costruito: blu, rosso e bianco. Voi cosa ne pensate? Vi mando un bacio e buon inizio settimana!
JACKET
ARTIGLI
T-SHIRT
GIORGIA&JOHNS;
PANTS
GIORGIA&JOHNS;
BRACELETS
CRUCIANI
WATCH
PIERRE BONNET
SHOES
HOGAN
BAG
CHLOÈ