An Interview with Alice's Pig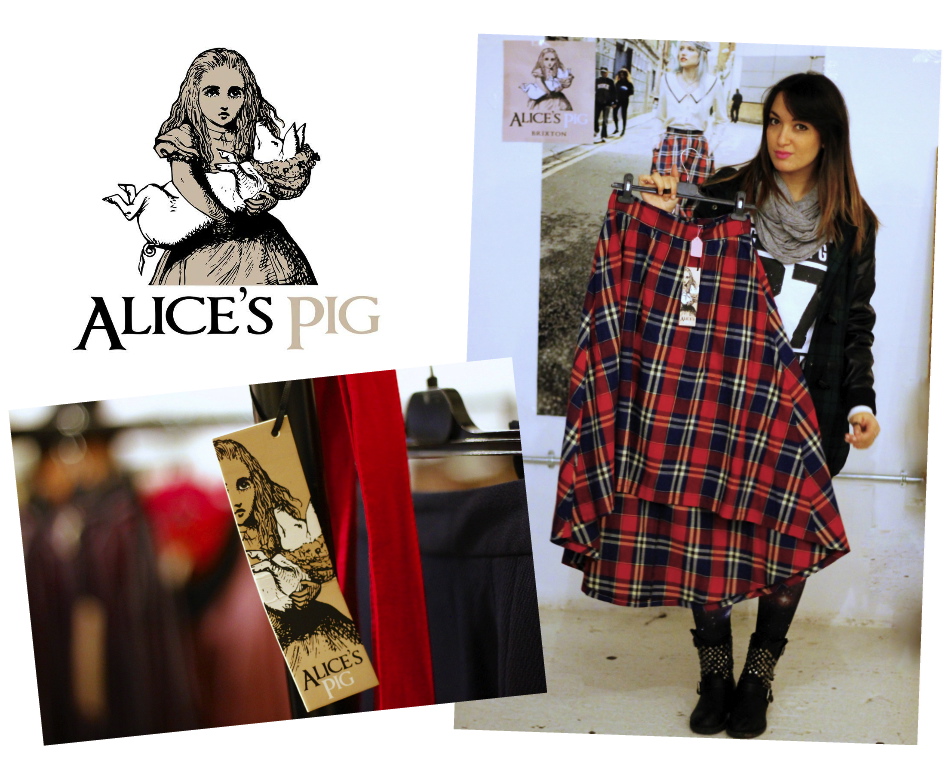 IT– Oggi sono di nuovo qui a parlarvi di Alice's Pig (ricordate il mio outfit?). Mentre ero a Londra, sono stata invitata nel loro Temporary Pop Shop a Brick Lane per visionare da vicino l'intera collezione e conoscere il Team di questo giovane brand inglese. Accompagnata dalla mia amica Arianna, abbiamo subito sfruttato l'occasione per fare una breve intervista ad Amanda, la designer di Alice's Pig. Quale miglior modo per parlarvi di questo marchio se non facendovelo spiegare direttamente dalla creativa del gruppo? 🙂 Ecco a voi l'intervista, buona lettura!
Qual è il tuo nome? – Il mio nome è Amanda.
Di dove sei? – Sono nata in Germania.
Qual è il tuo ruolo in Alice's Pig? – Sono la designer, mi occupo di sviluppo e produzione dei capi, diciamo che io sono responsabile di tutta la parte creativa.
Qual è l' idea alla base del logo del brand? – Io sono nata nell'anno del Maiale e quando abbiamo deciso di avere il nostro marchio, abbiamo trovato questa bella illustrazione dall'originale Alice nel Paese delle Meraviglie dove il maiale è stato trasformato da un brutto bambino in un bel maiale.
Quando è stato il marchio ha lanciato? – Alice's Pig nasce agli inizi del 2013 e la collezione presente in store è la prima.
Da dove prendi le idee per la raccolta? – Sicuramente traiamo ispirazione da abiti vintage e li modernizziamo a modo nostro. Per esempio, quando si va in negozi di abbigliamento di seconda mano e si trova qualcosa che piace, quando si indossa magari non si adatta correttamente al nostro corpo, magari è di taglia sbagliata ed anche vecchia, dunqua la nostra idea è di offrire uno stile vintage di vestiti che le persone possono realmente indossare.
Qual è la cosa che ti piace di più del tuo lavoro? – Amo il fatto che sono molto libera di creare quello che voglio senza seguire alcuna regola; i nostri vestiti sono fatti per singoli individui, non persone la massa. Ogni cosa che creo la indosso io stessa, non c'è nessun capo che non indosserei!
Così la collezione è uno specchio della vostra personalità? – Sì , un po'.
La tua collezione segue anche lo stile si può vedere a Londra (con un sacco di colori , in tartan , stampe, …)? – Sì , mi piace molto il movimento punk di Londra con il grunge e dato che ero troppo giovane per indossare quel tipo di abbigliamento negli anni 90, ora che questo stile sta tornando posso effettivamente creare qualcosa ora che ho sempre voluto indossare da ragazzina.
Come si fa a scegliere i tessuti per voi propri disegni? – Io vado in Cina per i mercati di stoffe a cercare pezzi di qualità e anche fornitori. Visito le fabbriche e mi siedo con loro per creare i miei modelli.
Quale sarà il prossimo passo? – Stiamo sicuramente cercando di entrare sul mercato, siamo alla ricerca di opportunità per i negozi online di altri oltre che del nostro, anche noi vorremmo essere in piccole boutique.
Come sarà la prossima collezione? (S/S 2014) – La collezione sta continuando a seguire lo stile grunge e punk, mantenendo anche il tartan, mentre si utilizzano un sacco di stampe e di colori.
Quale sarà il colore dominante nelle collezioni Primavera/Estate di Alice's Pig? – Smeraldo e verde sono i più utilizzati.
Dimmi qualcosa di te… – Negli ultimi quattro anni ho vissuto in Cina lavorando in produzione, ma alla fine ho deciso di tornare al lato creativo .
Perché hai deciso di esporre la tua collezione a Londra? – E' la città più creativa per me, ho passato un sacco di tempo a Hong Kong, Shanghai e in Germania, ma non c'è nessun posto come Londra. Qui la gente il coraggio di indossare qualsiasi tipo di materiale e nessuno ti guarda in modo strano, perché qui è normale indossare abiti folli e spero che il mondo inizi a fare lo stesso.
Bene, ora si sta probabilmente iniziando a progettare la prossima collezione invernale, qual'è l'idea che c'è dietro? – Sì, ci siamo ispirati agli anni '40 e '70, con l'icona di Katherine Hepburn.
È bello non seguire la stessa direzione delle altre marche e di essere unico e questo è ciò che Pig di Alice sta cercando di fare. Un ringraziamento speciale ad Amanda per il suo tempo e facendoci fare questa intervista con lei, ma anche al fratello Nicolai che ha reso possibile tutto questo .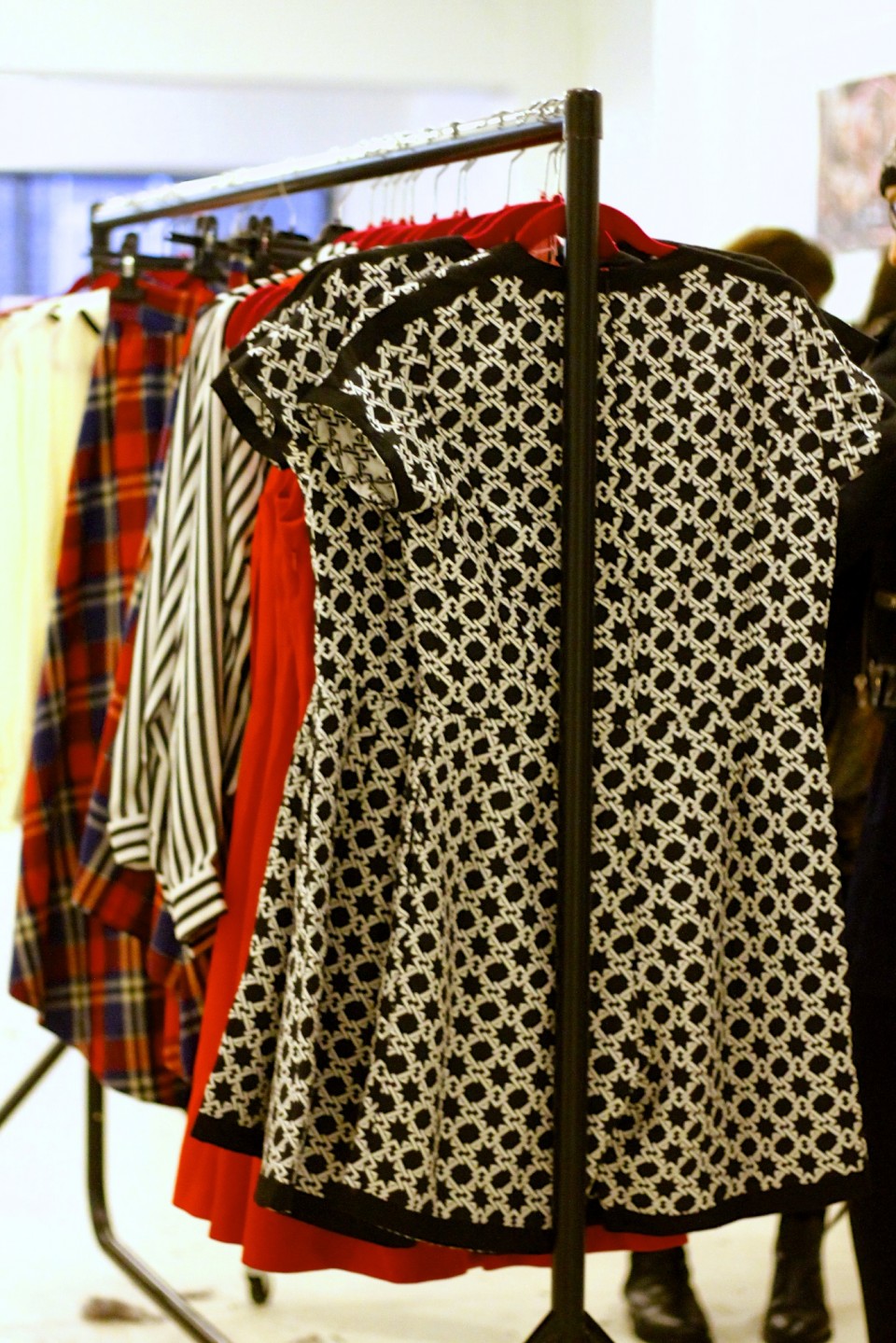 EN – Today I'm here again to tell you about Alice's Pig (remember my outfit?). While I was in London, I was invited into their Temporary Pop Shop in Brick Lane to view the collection and get to know the team of this young British brand. Accompanied by my friend Arianna, we immediately seized the opportunity to do a short interview with Amanda, the designer of Alice's Pig. What better way to tell you about this brand if not doing so explain to you directly from the group's creative? 🙂 Here's the interview, good read!
What's your name? – My name is Amanda
 Where are you from? – I'm from Germany.
What is your role in Alice's Pig? – I'm the designer, development and production, let's say I'm responsible for all the creative part
What is the idea behind the logo of the brand? – I was born in the year of the Pig and when we stated to think about having our own brand, we found this nice illustration from the original carol of Alice in Wonderland where the Pig was transformed from an ugly baby into a pretty pig.
When was the brand launched? – Alice's Pig was born in the beginning of 2013, and the collection in stores is our first one.
Where do you get ideas for the collection? – We definitely get inspiration from vintage clothing and we want to modernized in our own way. For example when you go into second hand clothing stores and you find something that you really love when you wear it and it doesn't fit properly and is also old; our idea is to offer vintage-style clothes that people can actually wear.
What is the thing you like the most about your job? – I just love that I'm very free to create whatever I want to without following any rules; our clothes are made for individuals not the mass. Every thing I'm creating I'm wearing it as well, there is no piece that I wouldn't wear!
So the collection is a mirror of your personality? – Yes, kind of.
Your collection also follows the style we can see in London (using lots of colors, tartan, prints,..)? – Yes, I like a lot the punk movement in London as well with grunge and since I was to young to wear that kind of clothes in the 90's, now that this style is coming back I can actually create something now that I always wanted to wear as a kid.
How do you choose the Fabrics for you own designs? – I'm going to China to the fabric markets to look for quality pieces and also suppliers. I visit the factories and sit with them to create my patterns, that will after be produced.
What will be your next step? – I'm definitely looking for going into… Markets, we are looking for opportunities for online stores other then ourselves, also we would like to be in small boutiques.
How is going to be the next collection? (S/S 2014) – The collection is going to follow the grunge and punk style again, keeping also the tartan while using a lot of prints and a lot of colors.
What will be the dominant color in Alice's Pig Spring/Summer collections? – Emerald and Green are the most used.
Tell me something about you… – The last 4 years I lived in China, working into production which was nice to get the skills and knowledge from there but at the end I decided to go back to the creative side.
Why did you decided to expose your collection in London? – It's the most creative city for me, I spend a lot of time in Hong Kong, Shanghai and Germany but there is no place like London, here people dare to wear any kind of stuff and nobody is looking at them in a strange way because here it's started to be so normal to wearing crazy clothes in London I hope the world would look at them and start doing the same. It's just amazing what you can wear here without being judged.
Well now you are probably starting to design the next winter collection; what will be the idea behind it? – Yes, we are getting inspired by the 40's and the 70's style with icon Katherine Hepburn.
Is nice to not follow the same direction of the other brands and be unique and this is what Alice's Pig is trying to do. A special thank you to Amanda for her time and letting us do this interview with her, but also to her brother Nicolai that made all this possible.