New project with "Il Quotidiano in Classe"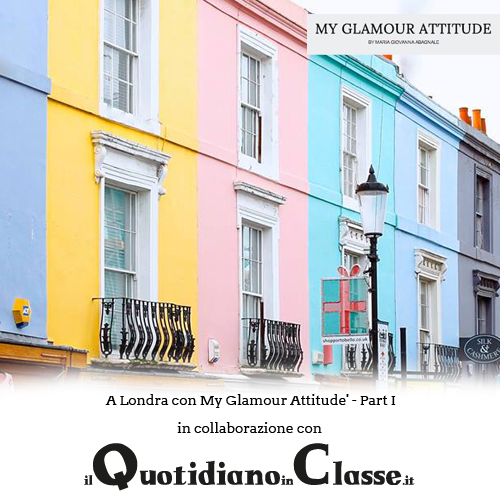 IT – Un po di settimane fa, su facebook vi avevo anticipato qualcosa a proposito di nuovi progetti e collaborazioni con magazine online e non solo! Bene, oggi vi inizio a parlare di una di queste news. Si tratta della mia collaborazione con www.ilquotidianoinclasse.it, un'iniziativa per tutti gli studenti delle scuole superiori italiane promossa dall'Osservatorio Permanente Giovani-Editori in collaborazione con i siti internet di Corriere della Sera, Il Sole 24 ORE e Quotidiano.net. Per tutti i partecipanti a questo "grande blog", ci sono in palio tantissimi premi al mese, ma quest'anno, a fine concorso, ci saranno tre vincitori finalisti e un vincitore assoluto. Il premio per la redazione vincitrice assoluta sarà un viaggio a Londra, per visitare la città e una redazione giornalistica, mentre le redazioni seconda e terza classificate andranno a Roma o a Milano per visitare la città e la redazione giornalistica di un quotidiano italiano. Ecco allora che entriamo in gioco io e My Glamour Attitude che, in previsione del primo premio, siamo stati scelti e contattati dal Quotidiano in Classe per narrare dei più bei luoghi di Londra in quattro appuntamenti, uno al mese a partire da questo Novembre! Dunque fino a Febbraio sarò impegnata con questo progetto, di cui il primo articolo è già online. Per leggerlo vi basterà cliccare su  QUESTO LINK! A presto con altre novità! Baci da Londra!
EN – A little of weeks ago , I told you something on facebook about new projects and collaborations with online magazine and much more! Well, today I start talking about one of these news . This is my collaboration with www.ilquotidianoinclasse.it, an initiative for all high school students sponsored by the Osservatorio Permanente Giovani-Editori in collaboration with the websites of Corriere della Sera, Il Sole 24 ORE and Quotidiano.net. For all participants in this "great blog" , there are great prizes to be won per month , but this year, at the end of the contest, there will be three winners and finalists a winner. The prize for the overall winner will be preparing a trip to London to visit the city and a news editor , and editors ranked second and third will go to Rome or Milan to visit the city and the editorial staff of an Italian newspaper. So here we get into the game me and My Glamour Attitude that, in anticipation of the first prize, we have been chosen and contacted by Quotidiano in Classe to tell the most beautiful places in London in four events, one per month starting this November! So until February I will be committed to this project, of which the first article is already online. To read it you just click on THIS LINK! See you soon with more news! Kisses from London!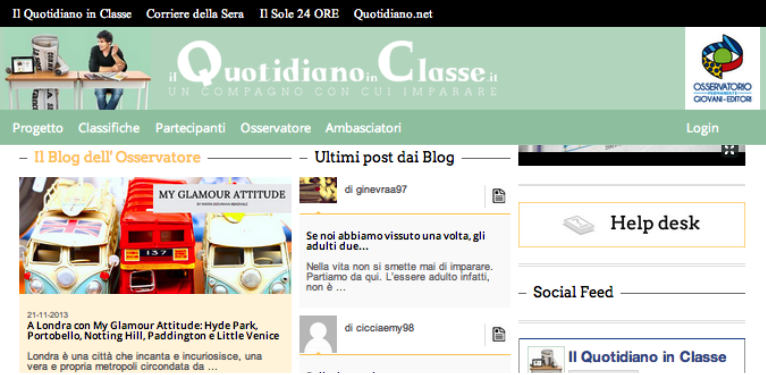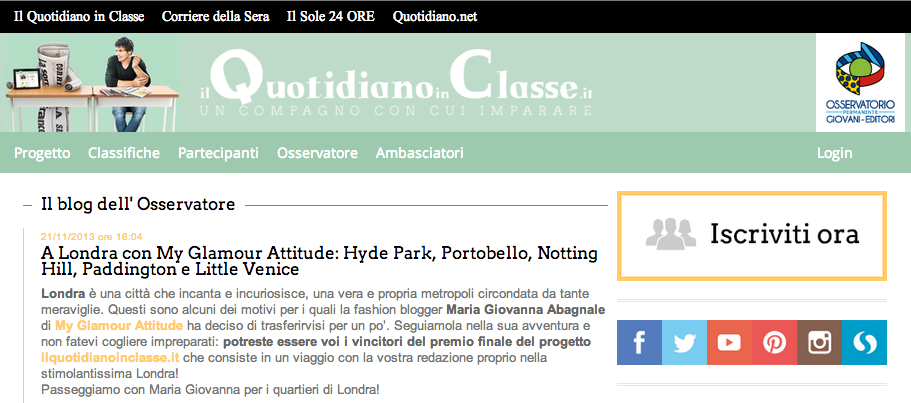 Advertise: