6° Outfit of MFW SS 2014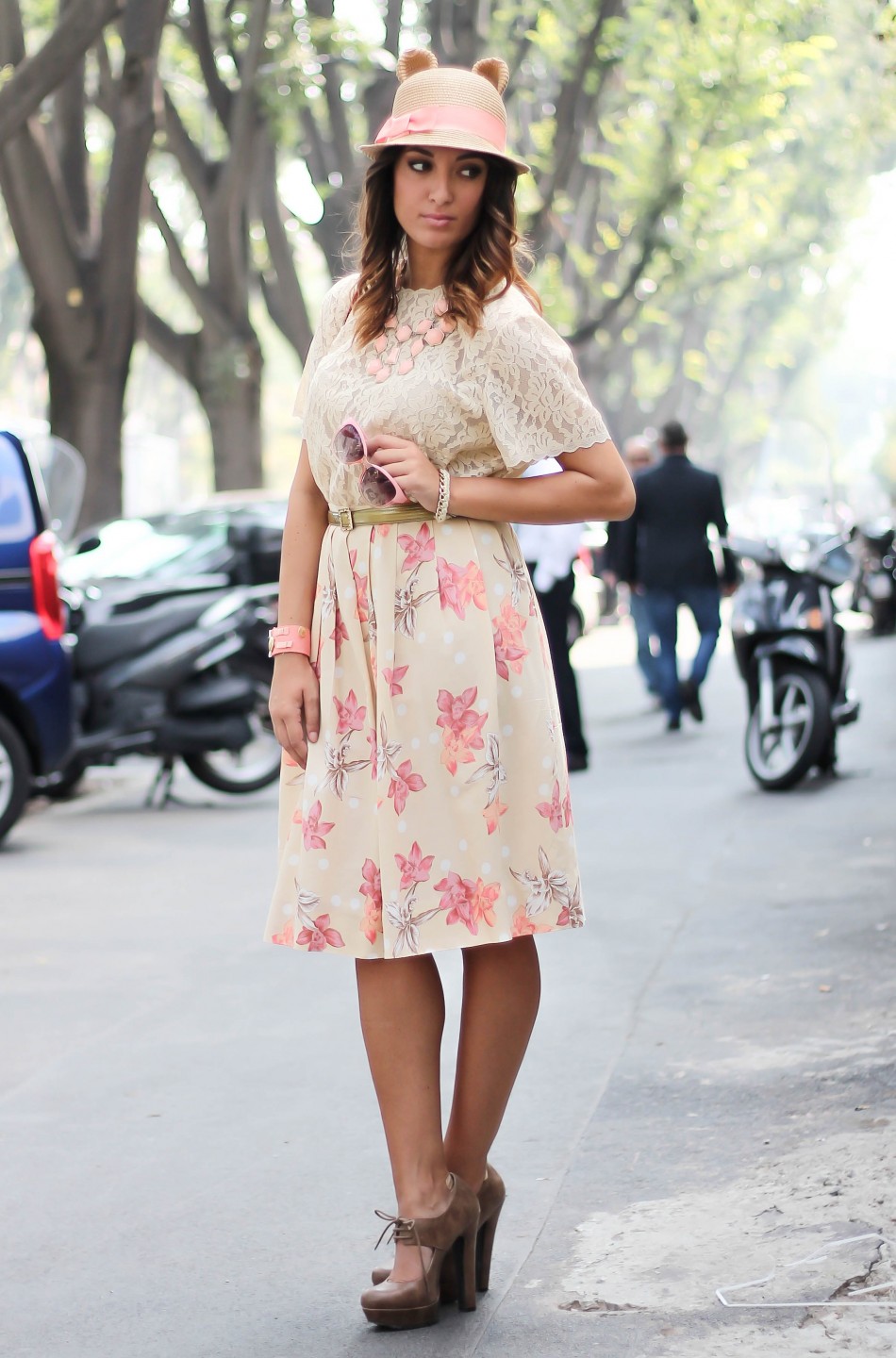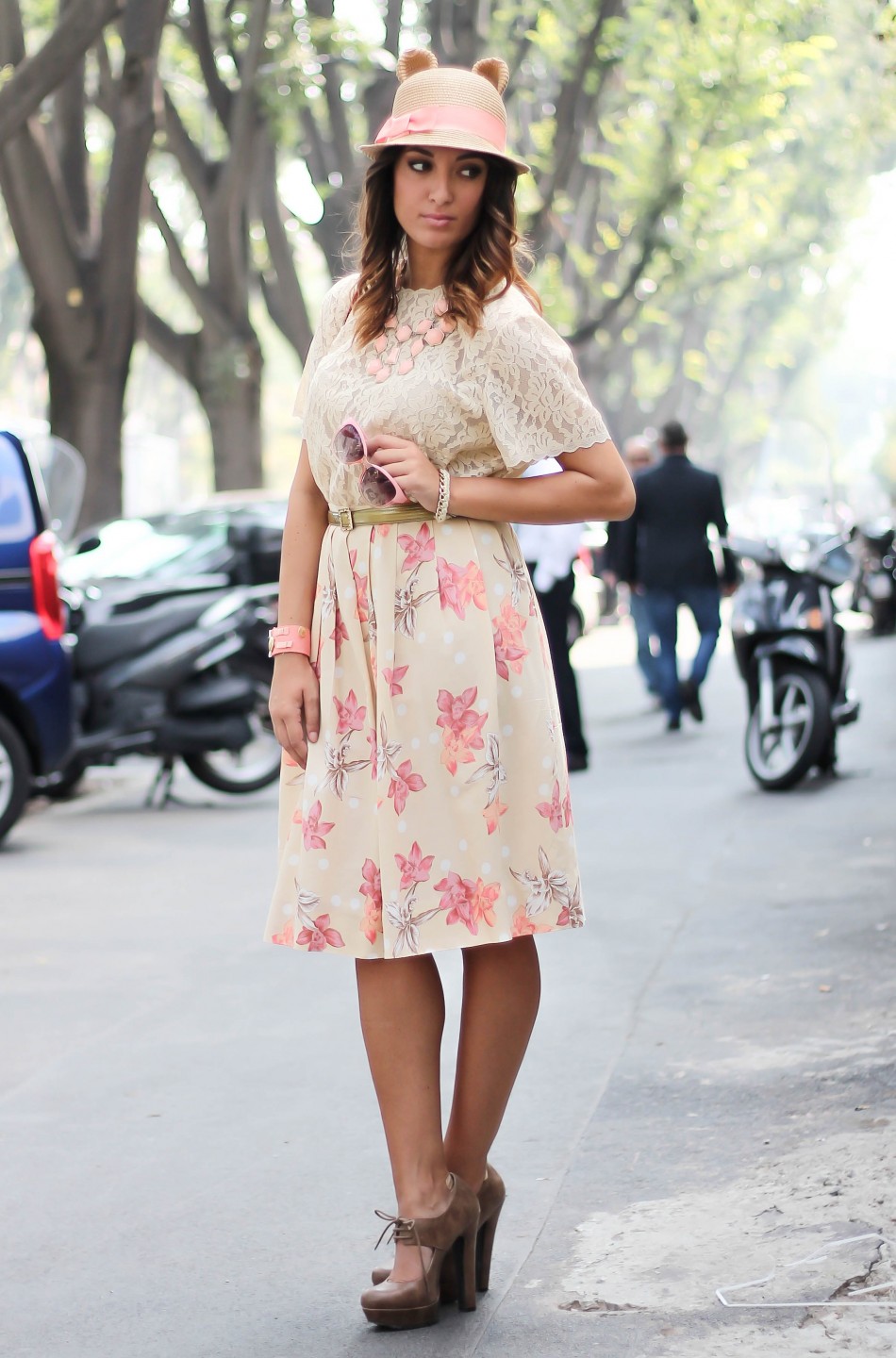 IT – L'ultimo giorno di fashion week è sempre il più triste. Vorresti che tutto questo non finisse mai… il solo pensiero di dover aspettare un semestre per rivivere altre emozioni del genere, oppure il dover salutare amiche/colleghe che vivono lontane da te e che vedi solo in queste occasioni… Be, tutto questo mette un pò di tristezza (almeno a me), ma ho vissuto attimo per attimo di questa breve e intensa giornata! Indossavo un total look vintage preso da Happy Vintage a Napoli in via Chiaia, abbinato ad un tenerissimo cappellino di paglia con orecchie da orsetto preso su Romwe.com. Quando l'ho acquistato, però, questo portava la fascia nera… così, per abbinarlo all'outfit l'ho cambiata con una color pesca e col resto di stoffa che mi era avanzata ho fatto un bracciale DIY, semplicemente cucendoci su dei bottoni o incollandoci dei fiocchetti. Una cosa semplicissima, ma è stato soddisfacente sentire i fotografi di street style che mi chiedevano di fotografare il bracciale! Quasi non ci credevo! 🙂 In effetti questo outfit ha riscosso parecchio successo, è piaciuto a tal punto di uscire su Vogue China e forse, chissà, anche su altri siti (ed io magari non ne ho la minima idea). Sono curiosa di sapere voi cosa ne pensate! Lasciatemi il vostro parere in un commento qui alla fine del post!! Un bacino!
EN – The last day of fashion week is always the saddest . Would you want all this would never end… just the thought of having to wait a semester to relive the emotions of the other gender, or having to say goodbye to friends/colleagues who live far from you and you see only on these occasions… Well , all this puts a bit of sadness, but I have lived each moment of this short and intense day ! I wore a total vintage look taken from Happy Vintage in Naples in Via Chiaia, combined with a tender little straw hat with teddy bear ears took on Romwe.com . When I bought it , this one had the black bow… so, I changed it to match the outfit with a peach-colored, and the rest of fabric that I had advanced I made a DIY bracelet, simply by sewing on buttons, or pasting some bows. A very simple thing, but it was satisfying to hear the street style photographers who asked me to photograph the bracelet! I couldn't believe! 🙂 In fact, this outfit has received a lot of success, enjoyed it so much to get out of Vogue China and perhaps also on other sites (and I might not have the slightest idea). I'm curious to know what you think! Let your opinion in a comment here at the end of the post! A kiss!
Photo Credits:  Patrick G. Guzman
I'm wearing:
VINTAGE LOOK
ROMWE HAT (buy similiar HERE)
H&M NECKLACE
DIY BRACELET
VINTAGE BAG
H&M SUNGLASSES
PRIMADONNA SHOES
On Vogue China!