2° Outfit of MFW SS 2014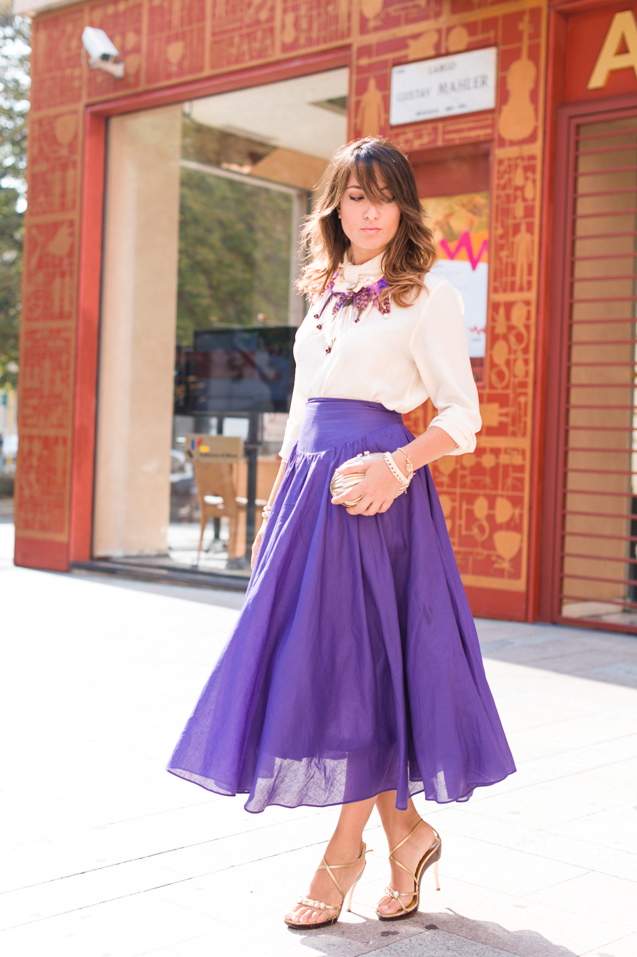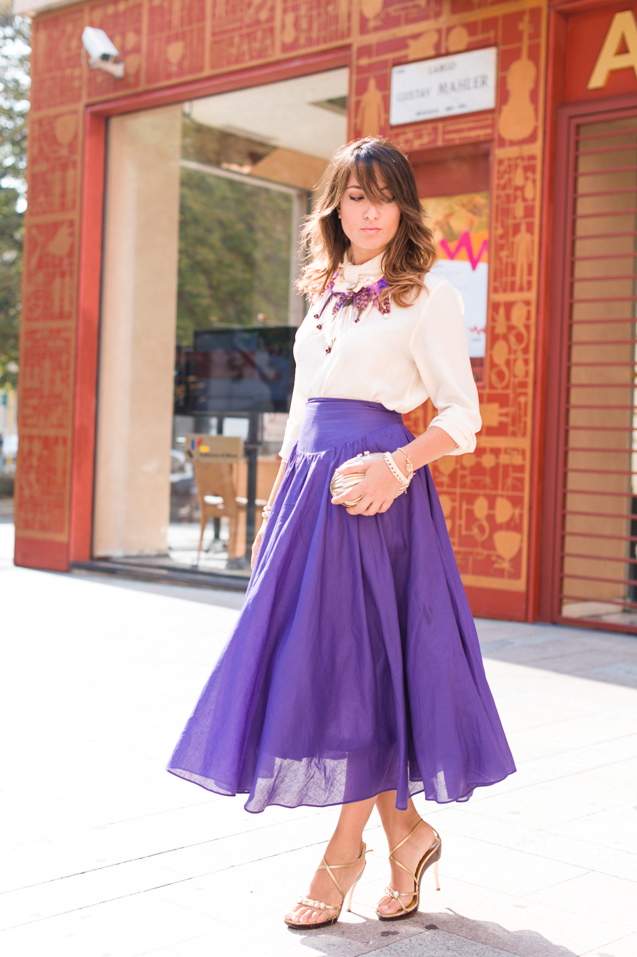 IT – Una mattina, pochi giorni prima di partire per la Fashion Week, mia madre entrò in camera mia con questa cosa viola tra le mani dicendo "guarda cosa ho trovato, la mia vecchia gonna di quando ero ragazza". Io, che lavoravo al pc, mi alzai incuriosita e le andai incontro per capire di cosa si trattasse. Mi bastò prendere quell'enorme quantità di stoffa e tulle tra le mani e provarla, che subito me ne innamorai! Mi guardai allo specchio e con un sorriso dissi "questa viene con me a Milano!". 🙂 Ed ecco dunque l'outfit che ho creato usando questa gonna vintage di Byblos come protagonista. Un look dai sapori retrò, abbinato ad una camicetta in seta color crema, ad un colletto in pizzo, piume e pietre (che richiamano le tonalità della gonna) fatto a mano da Bizzaria Jewel Couture e sandali e borsa gioiello. Pochi pezzi, ma d'effetto. Poi, senza farlo apposta, il secondo giorno di MFW, mentre camminavo per andare a prendere un taxi che mi portasse in Camera Moda, sulla strada trovai questo auditorium. Mi fermai, guardai l'ambientazione e mi dissi "questa è la location giusta per lo shooting di oggi". Così sono nati questi scatti… di cui io ne sono perdutamente innamorata!
EN – One morning, a few days before leaving for the Fashion Week, my mother came into my room with this purple thing in her hands saying "look what I found, my old skirt when I was a girl". I got curious and went toward her to understand what it was. I I picked up that enormous amount of fabric and tulle in my hands and try it, that I immediately fell in love ! I looked myself in the mirror and with a smile said, "this comes with me in Milan". 🙂 And here is the outfit that I created using this vintage skirt by Byblos as the protagonist. A retrò look, combined with a cream silk blouse, a lace, feathers and stones collar handmade by Bizzaria Jewel Couture and gold sandals and bag. Then, on the second day of MFW, while I was walking to go get a taxi to take me to Camera Moda, on the road I found this auditorium. I stopped, looked at the scenery and I said to myself  "this is the right location for the shoot today". Thus were born these shots … of which I'm madly in love!
Photo Credits: Creativa Solutions
I'm wearing:
BYBLOS VINTAGE SKIRT
BIZZARIA JEWEL COUTURE COLLAR (buy HERE)
SPACE STYLE CONCEPT SHIRT
VINTAGE BAG
MIKYRI BRACELET (find them HERE)
ITALO BALESTRI SHOES