IT – Neanche il tempo di tornare da Firenze, che subito mi sono messa su un nuovo treno in direzione Milano. Un'altra toccata e fuga anche qui! Per cosa? Bè chi mi segue sui social (facebook, twitter, instagram) forse lo sa già, ma comunque ve ne parlerò domani! 🙂 Le foto che vedete sono state fatte proprio al mio arrivo a Milano nella stazione di Porta Garibaldi, dove mi aspettava Patrick per questo rapido shooting. Lui è davvero bravo ed ogni volta che sono a Milano ne approfitto per fare qualche scatto con lui! Che ne pensate di questo mix di colori? Io lo trovo molto estivo! Inoltre indosso le mie nuove decollete nude (finalmente le ho trovate come volevo), vi piacciono? Alla fine del post trovate tutte le marche di ciò che indosso ed anche qualche link per acquistare online! Vi mando un bacio! A domani!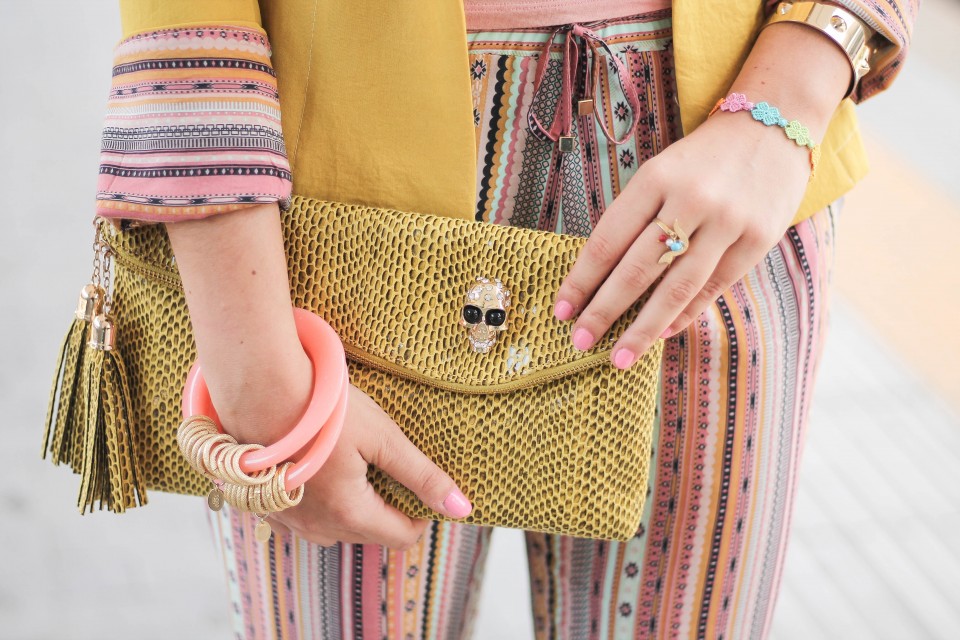 EN – even time to go back to Florence, which I immediately took a new train to Milan. Those who follow me on social (facebook, twitter, instagram) maybe know why, but I'll get you tomorrow! 🙂 The photos that you see have been done on my arrival in Milan in the Porta Garibaldi Station, where Patrick was waiting me for this quick shooting. He is very good photographer and every time that I'm in Milan I take this opportunity to do some shooting with him! What do you think of this color mix? I find it very summery! In addition, I am wearing my new nude decollete (finally I found what I wanted), do you like? At the end of the post you will find all brands of what I wear and also some links to buy online! I send you a kiss! See you tomorrow!
Photo Credits: Patrick C. Guzman
I'm wearing: GIORGIA & JOHNS jacket and pants, MILANOO.COM shoes, CRUCIANI bracelet, PAVIE' BIJOUX bangles bracelet, H&M sunglasses and gold bracelet, NO BRAND bag, BLUMARINE t-shirt.