How to Wear Bootcut Jeans for Day or Evening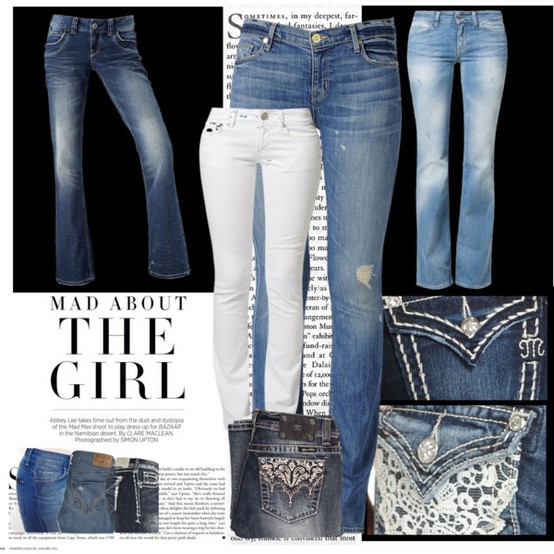 EN – 
Bootcut jeans are back with a bang, which is great news for women everywhere. Whatever your size and body shape, the bootcut is a universally flattering cut of jean. It magically balances out those wobbly bits or adds shape to those who need a bit of help in that department. A pair of
fabulous bootcut jeans
will lift the bum, slim the legs and balance out heavy hips. It's the magic knickers of the jeans world, and finding the perfect pair can be a real revelation. And there's really no need to splash out on expensive designer pairs as it's not always a case of the more you spend the better. You'll find amazing dark wash bootcut jeans at George ASDA for just £14! Fit is key, so be sure to try on a few different pairs before you make your selection. If you buy bootcut jeans online make sure that the retailer offers a 28 day no quibble returns policy. Even better, when you buy from George at ASDA online you'll benefit from an amazing
100 Day Guarantee
, so if you decide that you're not happy with the way that your new jeans are wearing, simply send them back or take them back to an ASDA store with your receipt. Now that you've found your perfect pair of bootcuts, it's time to get creative with different ways to wear them:
Bootcut Jeans for Day: Bootcut jeans make ideal comfortable, casual wear. Team with a simple tee, hoody and converse trainers for running errands, or with chunky heeled boots, a fitted vest top and a waterfall cardigan or fine knit sweater for shopping trips. Once you've worn your bootcuts in a little, you'll even find yourself wearing them for lounging around the house in – in fact, you won't want to take them off! If you don't work in a suit environment you could get away with black bootcuts in the workplace. They look great when worn with a crisp white shirt and black blazer, for smart yet approachable office attire that will take you from desk to bar with the simple addition of a pair of earrings!
Bootcut Jeans for Evening: Bootcut jeans are easy to dress up for evenings out, especially dark wash bootcuts in navy or black. They pair perfectly with this seasons collared shirts and blouses, or sleeveless shirts when the weather warms up a little. Wear with heeled ankle boots to add leg-lengthening height. You could also wear your bootcuts over a fitted bodysuit for a fashion forward look – choose lace for a racy edge. Pointed stilettos will go perfectly. For more casual nights out – to the cinema or the pub for example – pale bootcuts look amazing with the new floral boho trend incorporating romantic florals and floaty fabrics. Try boots witha chunky heel with this look – the new style cowboy boots are ideal. Take advantage of the fact that thebootcut is back and invest in a few pairs this season. Your fabulous bootcut jeans are sure to quickly become a firm favourite in your wardrobe, taking you from day to night with ease!
IT –
I jeans Bootcut sono tornati, il che è una grande notizia per le donne di tutto il mondo. Qualunque sia la vostra dimensione e la forma del corpo, i
jeans bootcut
hanno un taglio universale ed aiutano ad aggiungere le forme giuste. Sono gli "slip magici" del mondo dei jeans, e trovare il paio perfettao può essere una vera rivelazione. E non c'è davvero alcun bisogno di spendere tanto, perchè non sempre "più si spende e meglio è". Troverete bellissimi Jeans Bootcut a soli 14€! Fit è la chiave, in modo da essere sicuri di provare alcune paia diverse prima di effettuare la selezione. Se si acquistano on-line, il rivenditore offre 28 giorni di prova. Ancora meglio quando si acquista da George ASDA, perchè potrai beneficiare di un incredibile
garanzia 100 giorni
, quindi se non sei soddisfatto del modo in cui i jeans ti calzano, devi semplicemente rispedirli con la ricevuta. Una volta che hai trovato il tuo paio di bootcuts perfetto, è il momento di vedere i diversi modi di indossarli:
Jeans Bootcut per il giorno: I jeans Bootcut rendono ideale e confortevole l'abbigliamento casual. Con una maglietta semplice, una felpa e scarpe da ginnastica converse per fare commissioni, o con gli stivali col tacco, un top e un cardigan per lo shopping. Sono ideali anche in un ambiente lavorativo. Perfetti se indossati con una camicia bianca e un blazer nero, per abbigliamento ufficio elegante, che vi porterà dalla scrivania al bar con la semplice aggiunta di un paio di orecchini!
Jeans Bootcut per la sera: I jans Bootcut sono facili da indossare per serate fuori, in particolare quelli a lavaggio scuro, in blu o nero. Da indossare con stivaletti con tacco per dare un po di slancio alla silouette. Si possono anche indossare con un body aderente, magari in pizzo, e con tacchi a spillo. Per serate più occasionali – come al cinema o al pub per esempio – ci sono anche bootcuts chiari, dai colori pastello o con la nuova tendenza floreale. I tuoi jeans Bootcut sono favolosi e credo che possono diventare uno dei capi preferiti del vostro guardaroba, che vi porteranno dal giorno alla notte con facilità!