ChicZone Experience: Swap Party & Fashion Competition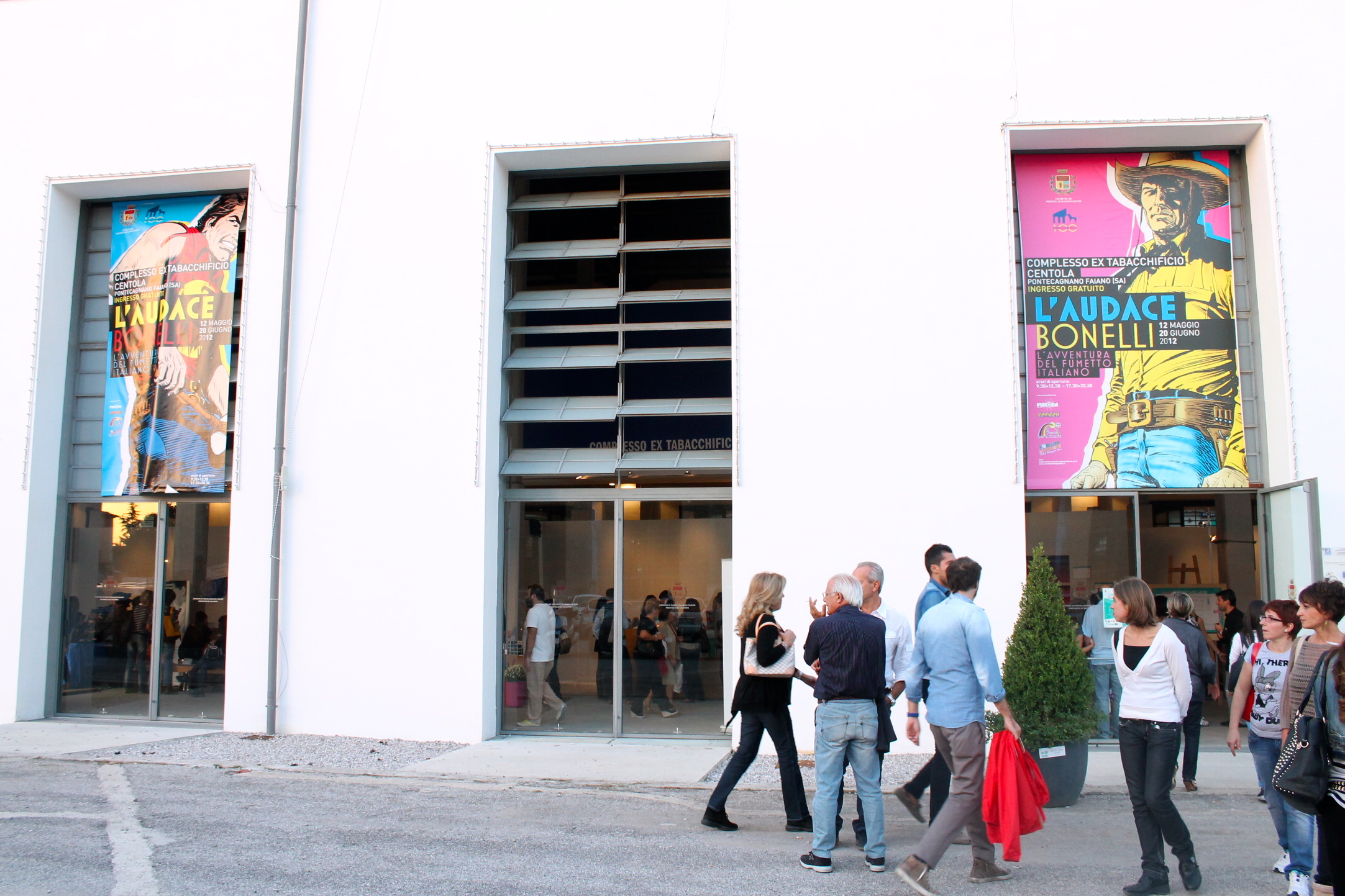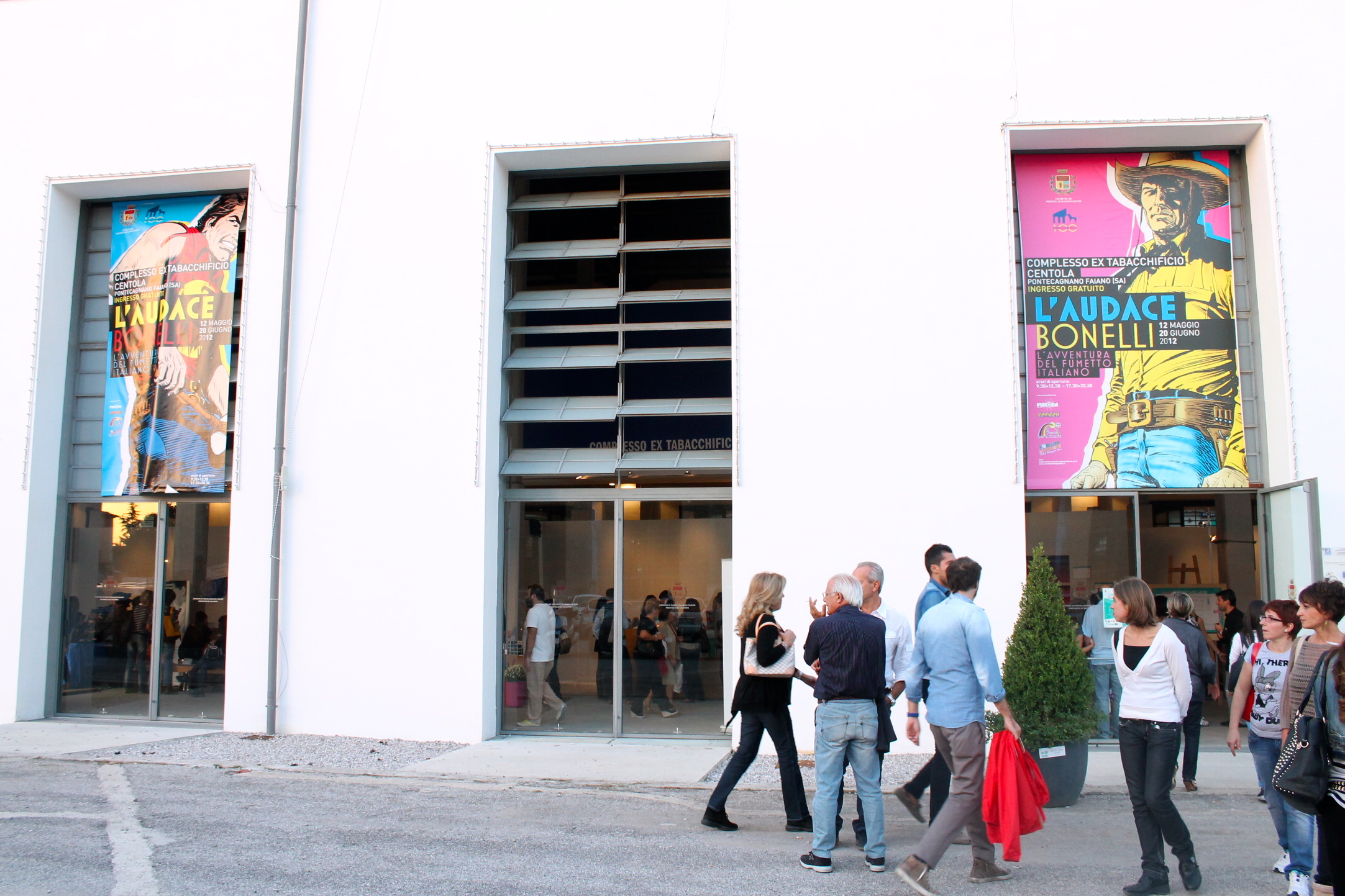 So many things I should write about this day, so many that this post will probably result in a chapter of a book. I started taking a tour to visit the Chic Zone Experience. There were different stands, but the prettiest was furnished areas by hair and makeup. After I went in the back-stage of the fashion show where I met the designers and their collections. I made the mini interviews (questions that you will find scrolling through pictures) and then I went to the swap to start the exchange! Finally there was the fashion show competition (between Moodìa, Bragia e Morfosis), where each designer has presented 8 outfits. The jury, of which I was a member, has decreed Bragia winner! I was also impressed by his collection, especially the colors and materials, but I also really liked the style of Morfosis. Now I leave you to the photos! Enjoy!
Quante cose dovrei scrivere su questa giornata, talmente tante che probabilmente questo post risulterebbe un capitolo di un libro. Per prima cosa ho fatto un giro per visitare lo Chic Zone Experience. C'erano diversi stand espositori, ma la cosa più carina sono state le aree allestite per omaggiare le ospiti con trucco e parrucco. Dopo mi sono recata nel back-stage della sfilata dove ho conosciuto i designer e le loro collezioni. Gli ho fatto delle mini interviste (che troverete scorrendo le foto) dopodiché sono andata nella zona swap per iniziare lo scambio! Infine si è tenuta la sfilata/concorso (tra Moodìa, Bragia e Morfosis), dove ogni stilista ha presentato 8 outfit della propria collezione. La giuria, della quale facevo parte, ha decretato Bragia vincitore! Anche io sono stata colpita dalla sua collezione, soprattutto per i colori ed i materiali, ma mi è piaciuto molto anche lo stile di Morfosis. Ora vi lascio alle foto, faccio parlare le immagini in modo tale da annoiarvi di meno ed arrivarvi di più!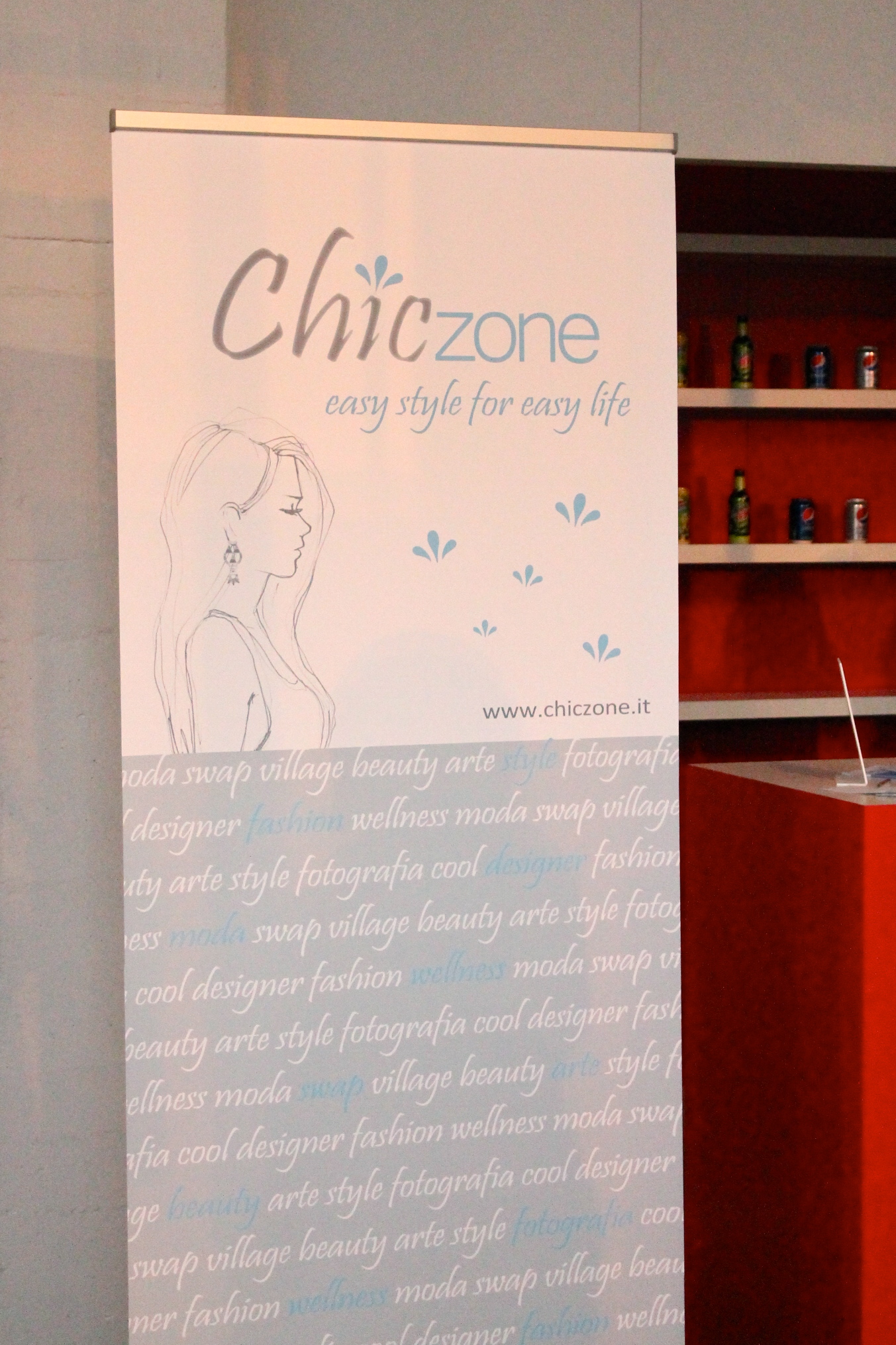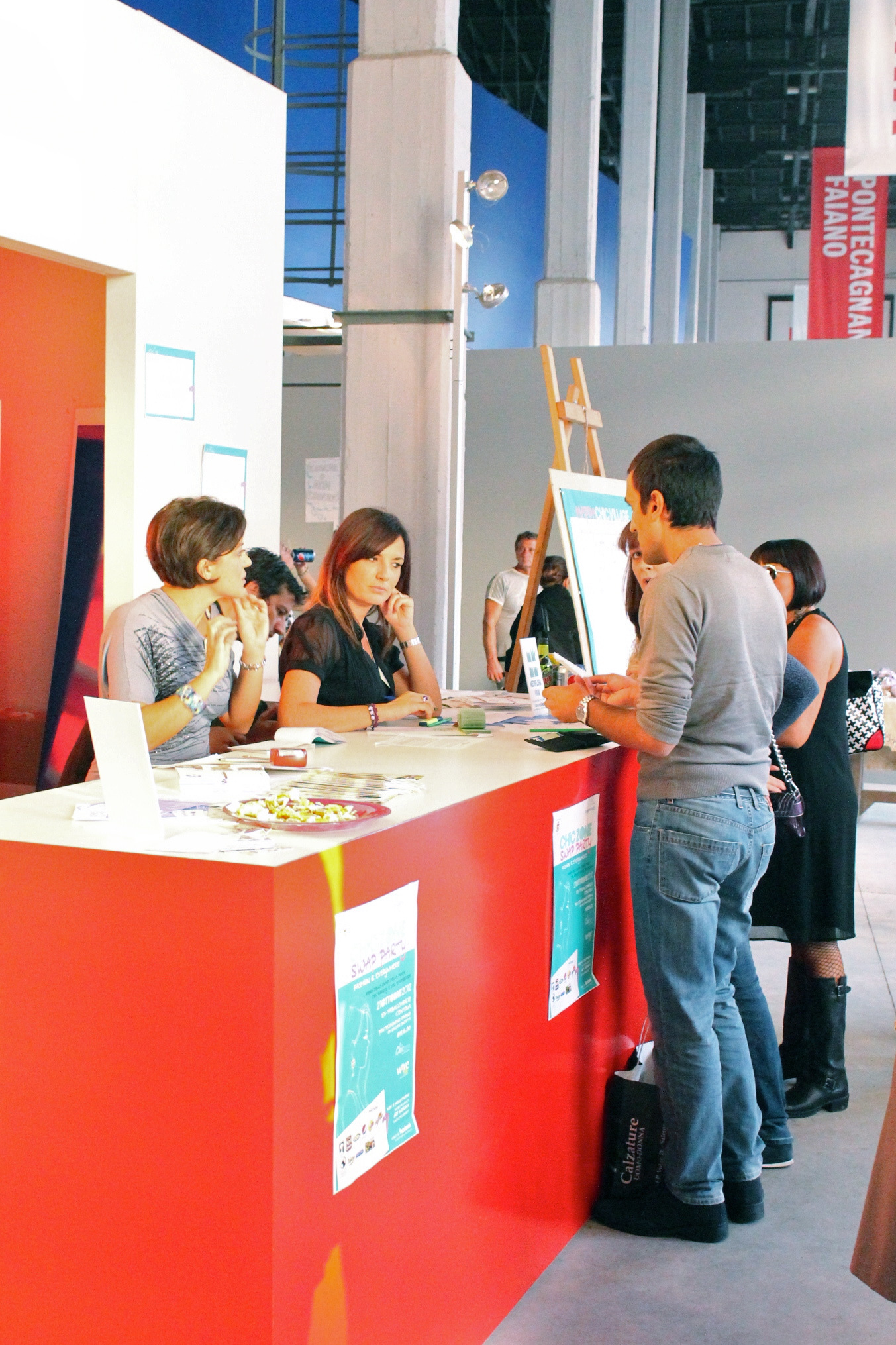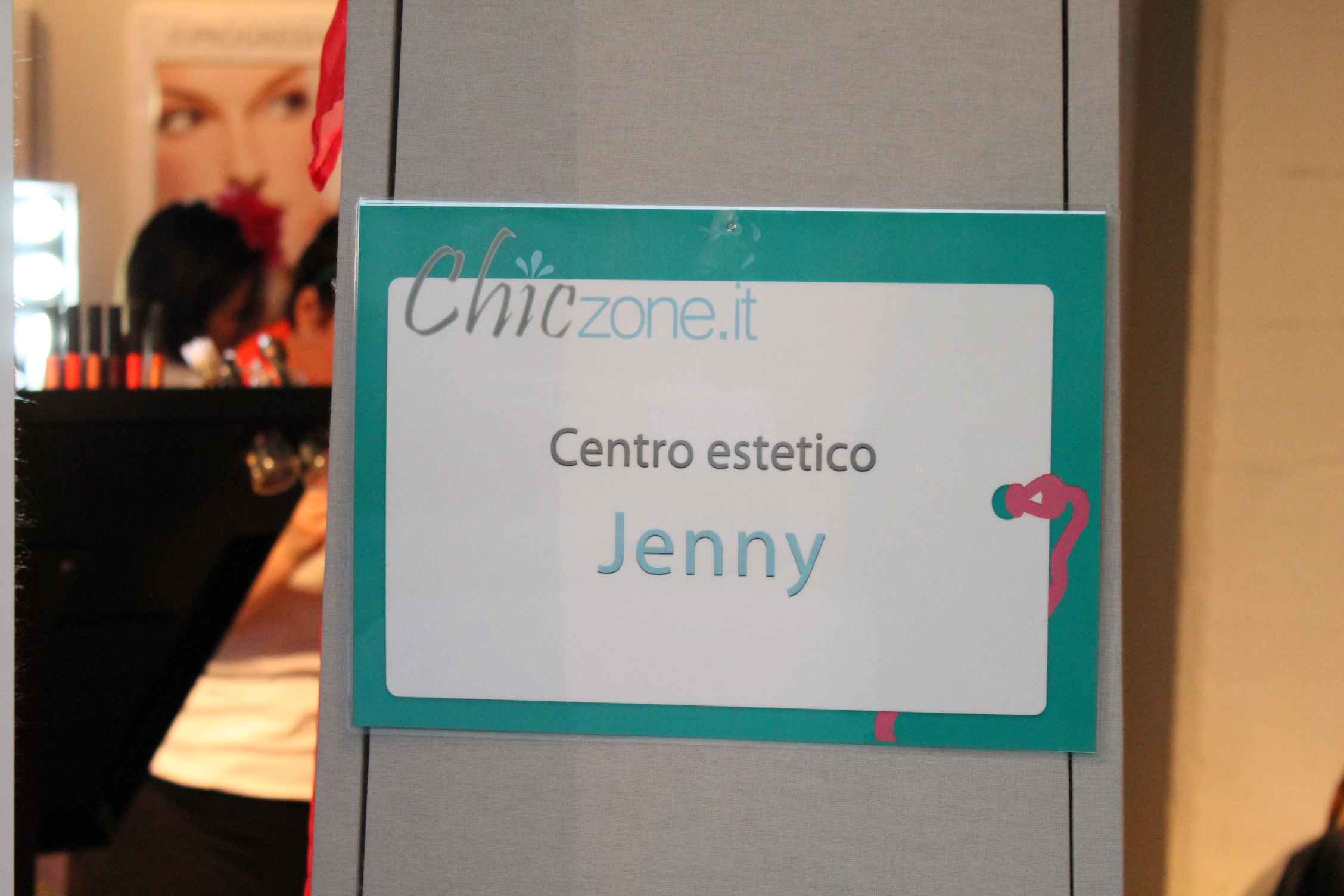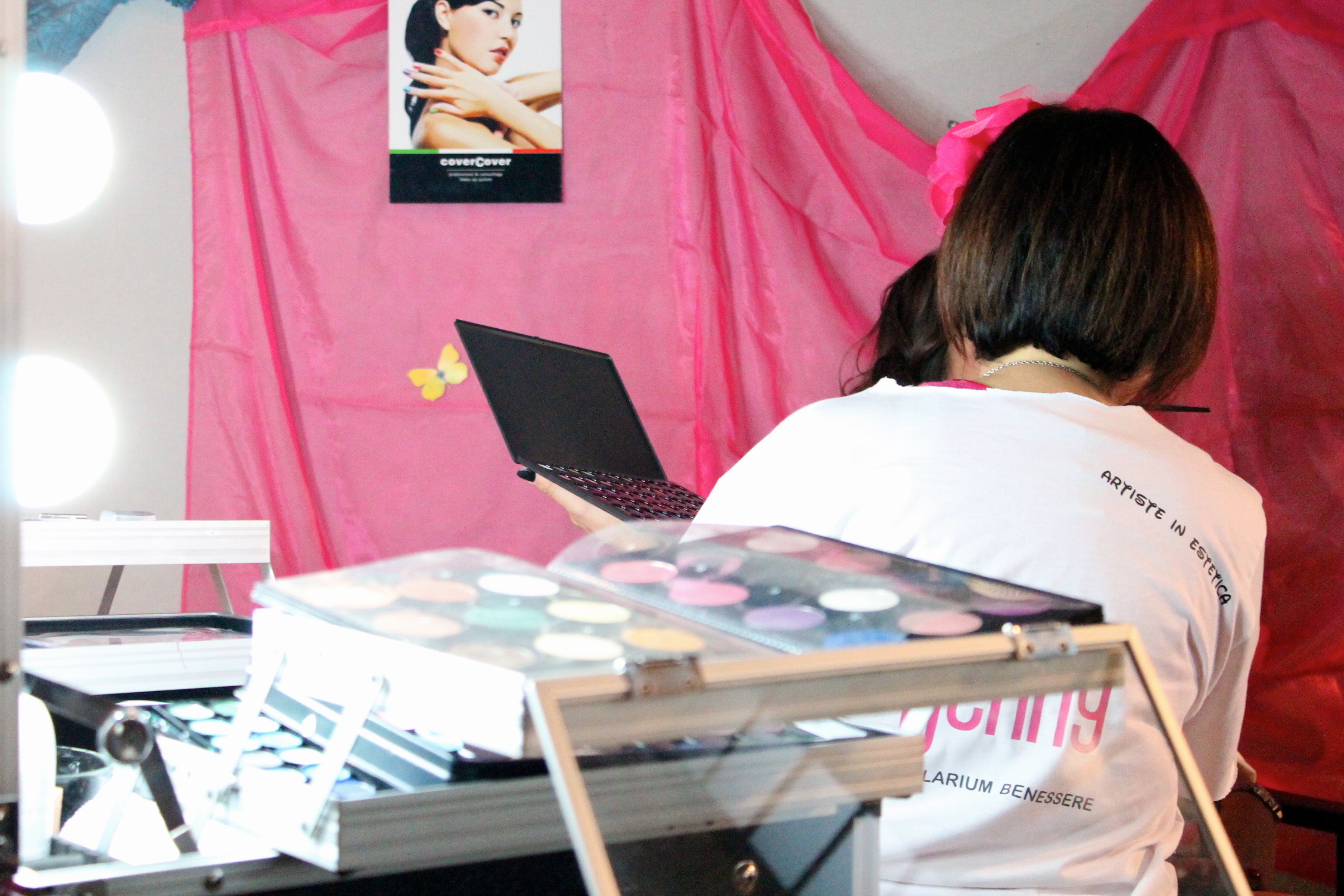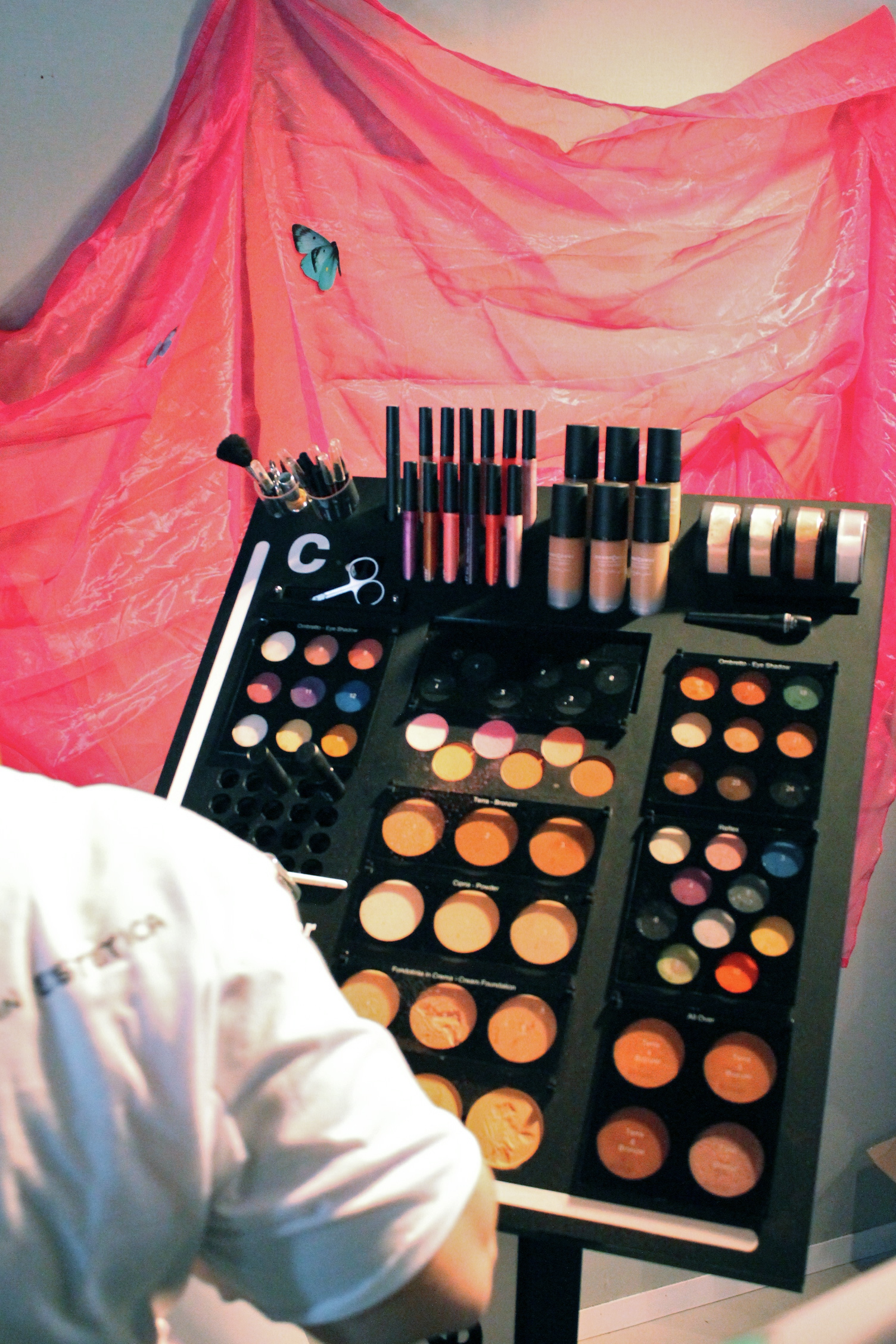 What inspired the collection? The color is characteristic of our brand. We have made a choice, as you can see the black almost doesn't exist in our collections, always has an influence or a black / non-black is always a blue, a very dark green. The choice is to use shades of different colors also through these prints, through this printing technique that we have patented and that allows to obtain these unique effects. So all the prints are made by you? Absolutely, all prints, but also the combinations are searched one by one. What about the fabric? I tell you that our ideal is that of a woman without constraints: the fabrics are very fluid, caress the body. There is never something that forces because we want sensuality, femininity given the fluidity of the fabric.

A cosa si ispira la vostra collezione? Il colore è la caratteristica del nostro brand. Noi abbiamo fatto una scelta, come vedi il nero quasi non esiste nelle nostre collezioni, ha sempre un'influenza o è un nero/non-nero; è sempre un blu, un verde molto scuro. La scelta è usare nuance di colori diversi anche attraverso queste stampe, attraverso questa tecnica di stampa che abbiamo brevettato e che i permette di ottenere questi effetti unici. Quindi tutte le stampe sono realizzate da voi? Assolutamente, tutte le stampe, ma anche gli abbinamenti sono ricercati ad uno ad uno. E riguardo ai tessuti? Ti dico che il nostro femminile ideale è quello di una donna priva di costrizioni: i tessuti sono molto fluidi, accarezzano il corpo. Non c'è mai qualcosa che costringe, proprio perché vogliamo una sensualità, una femminilità data dalla fluidità del tessuto.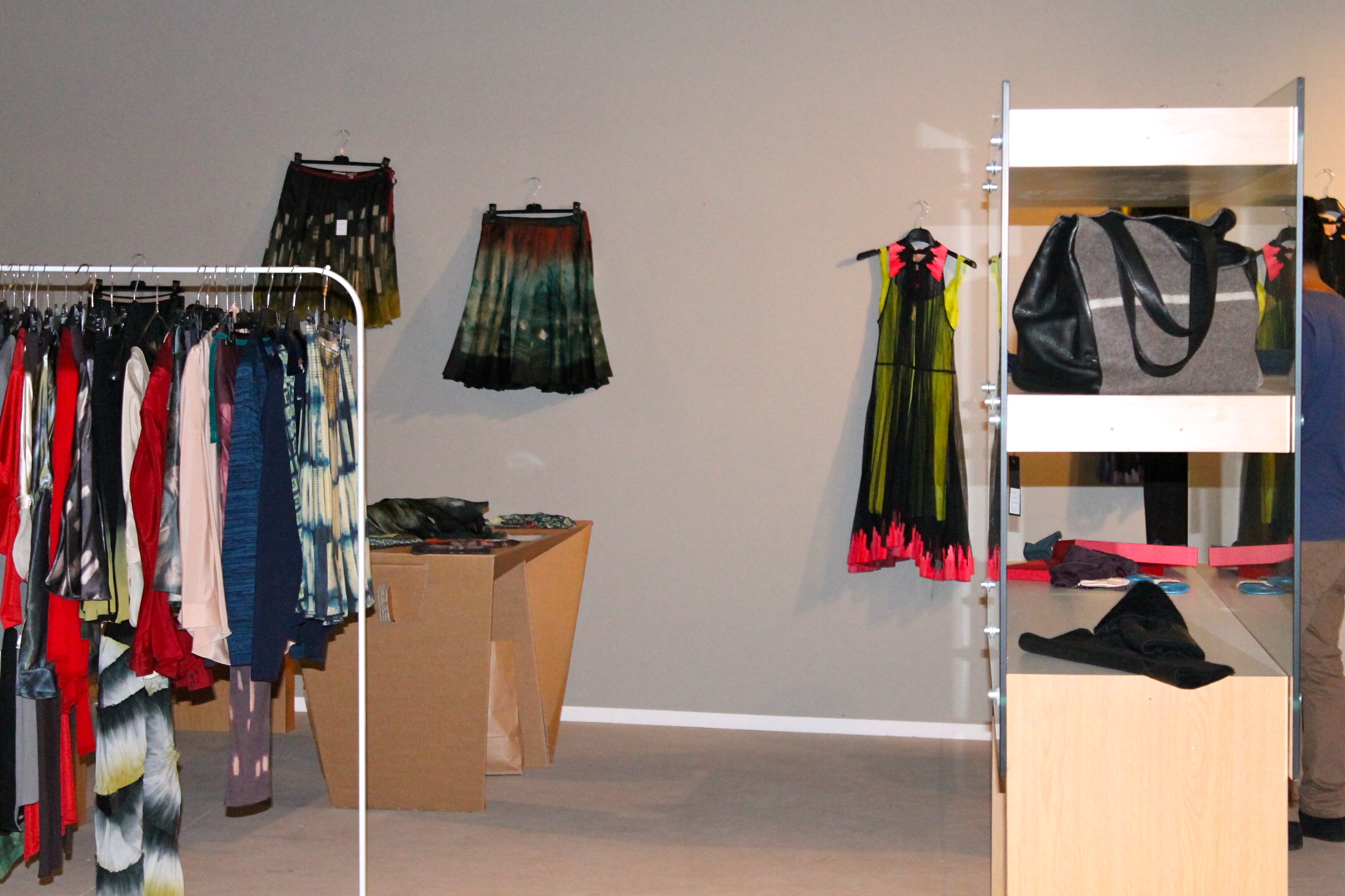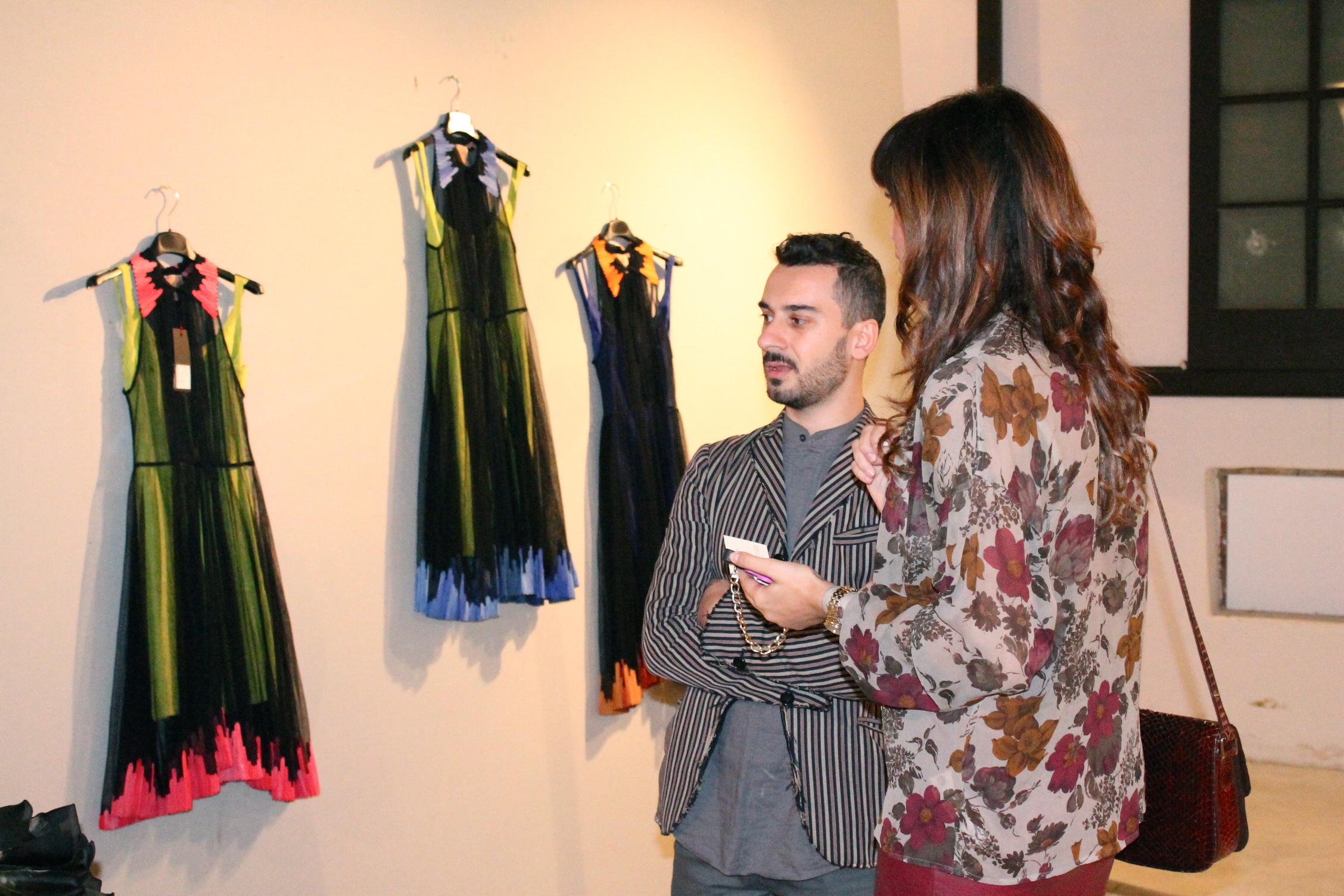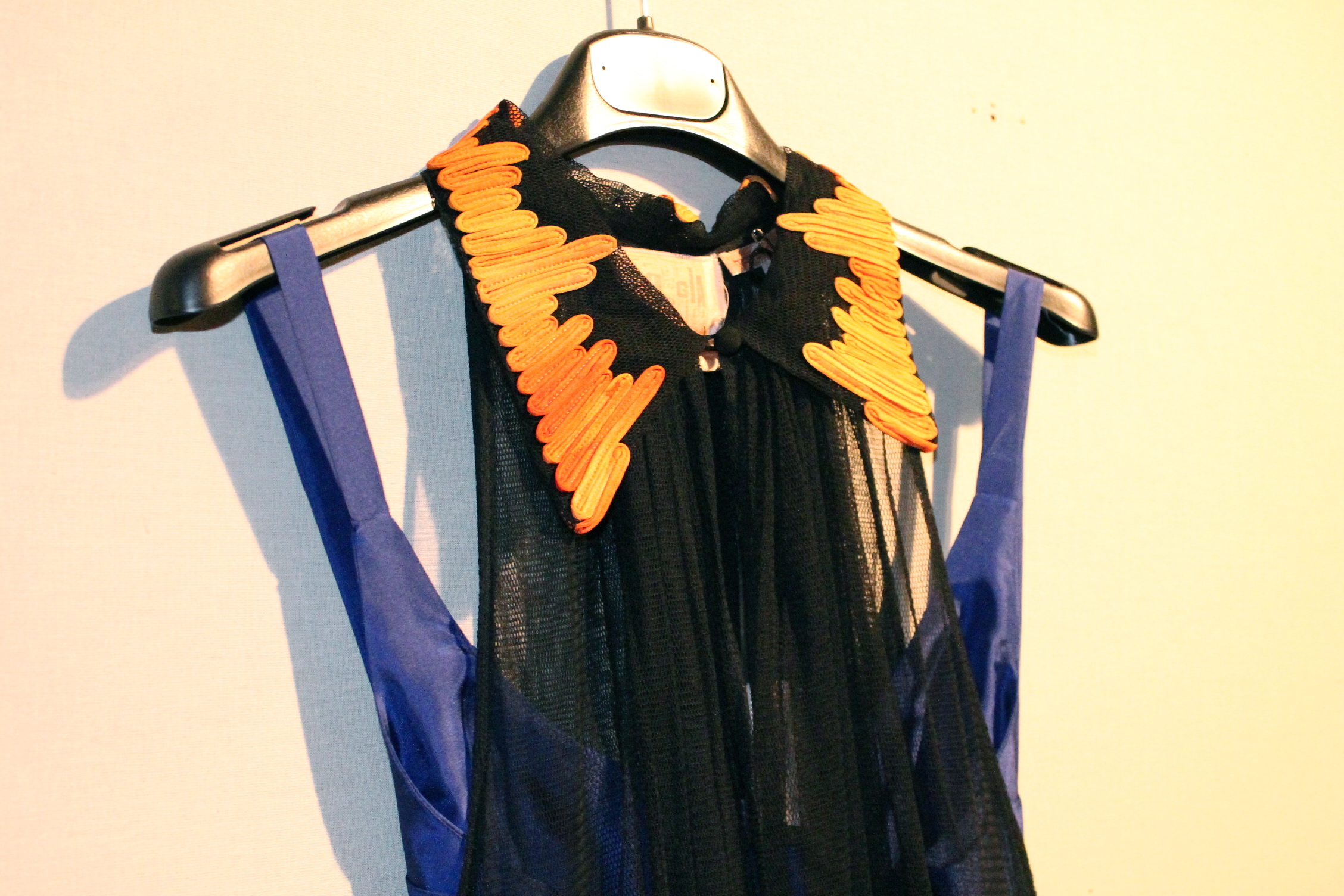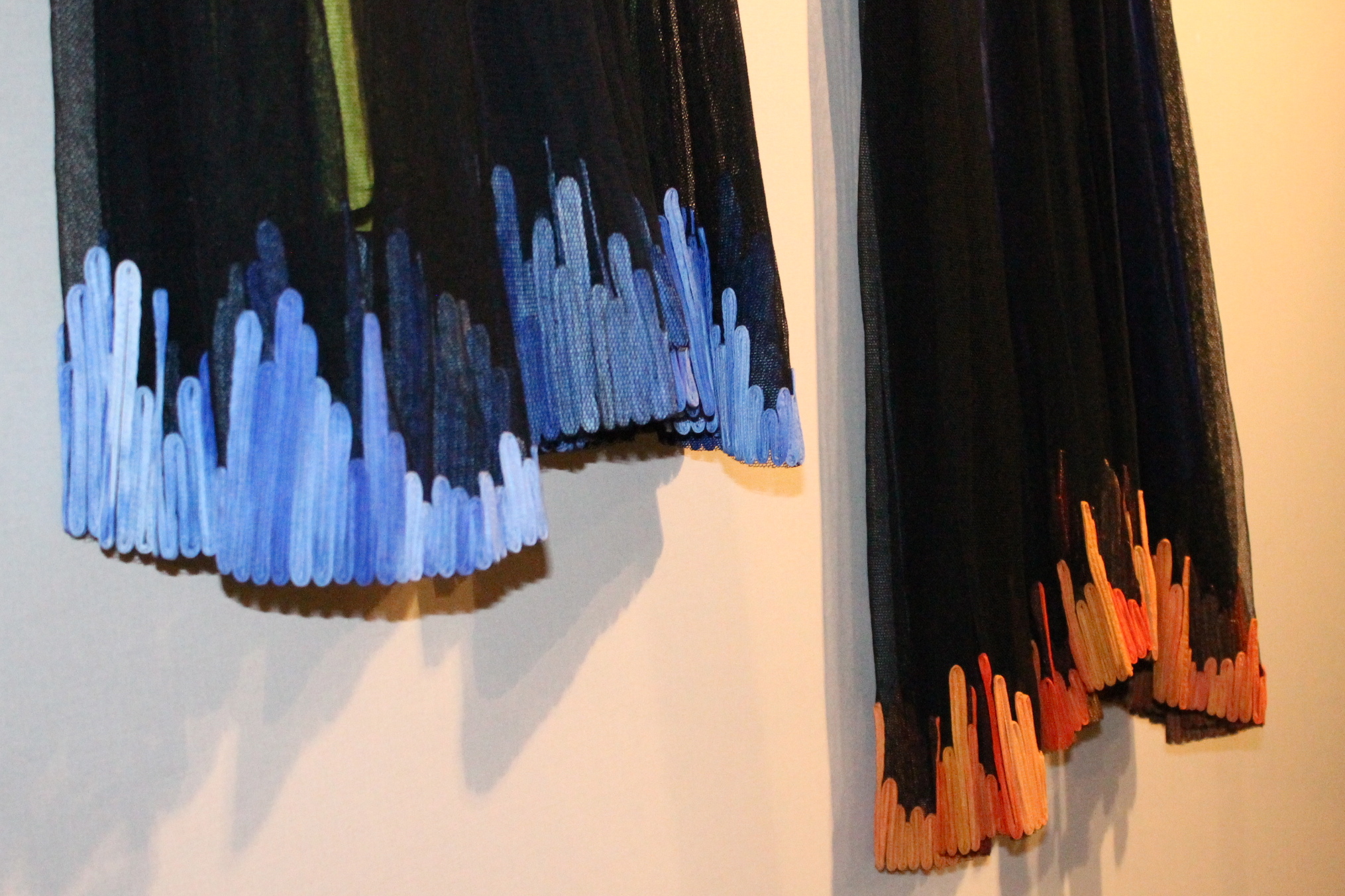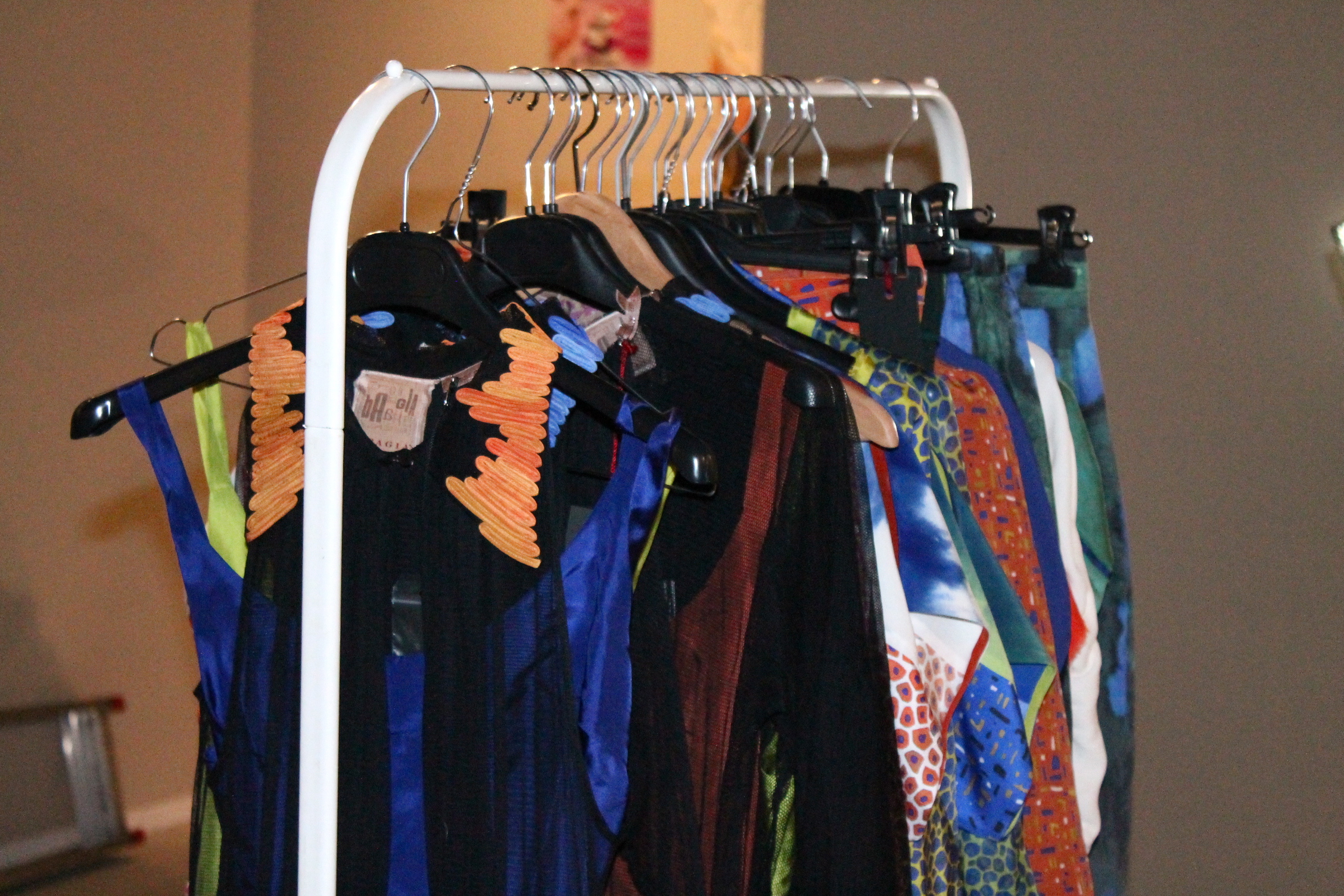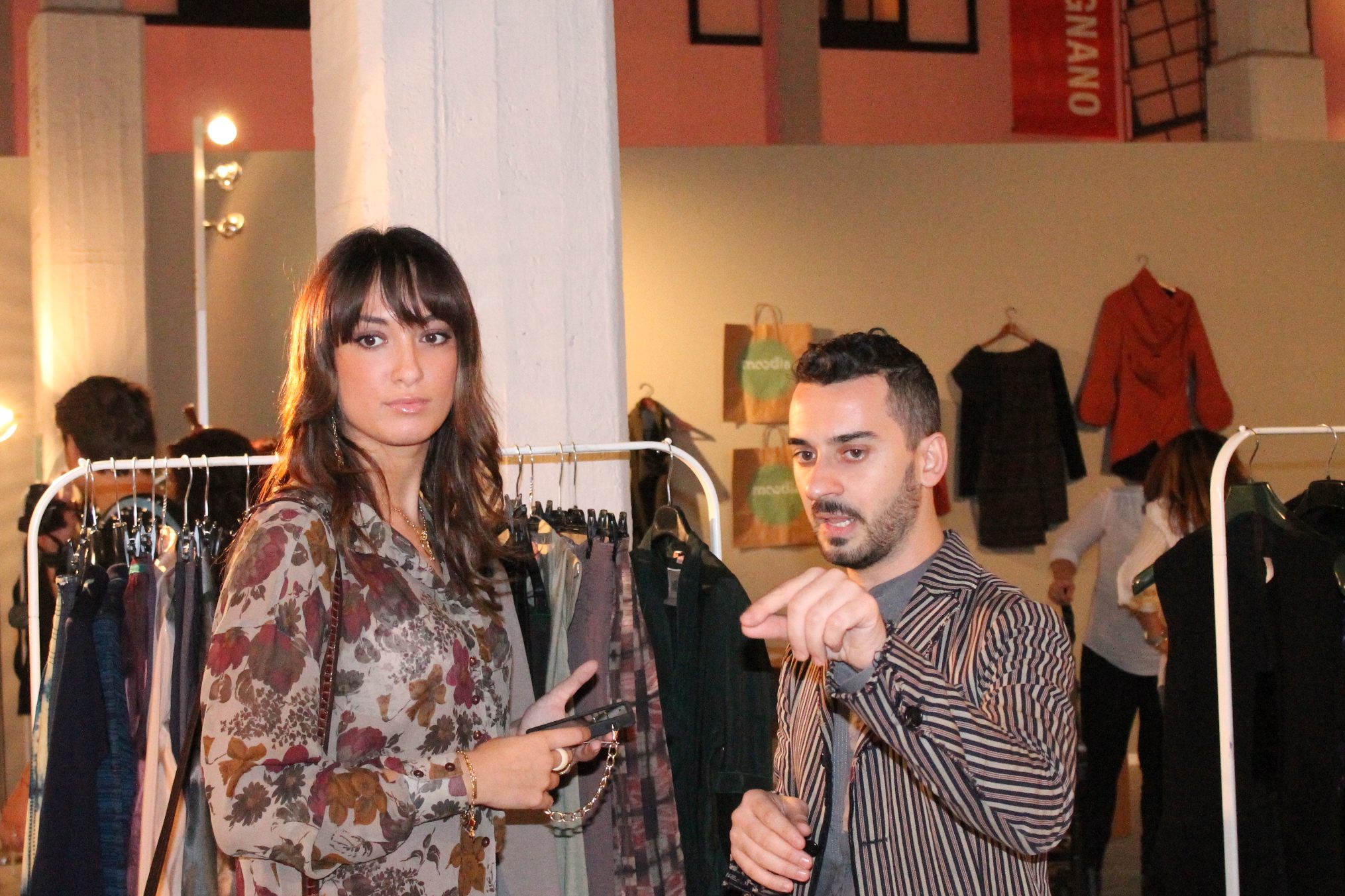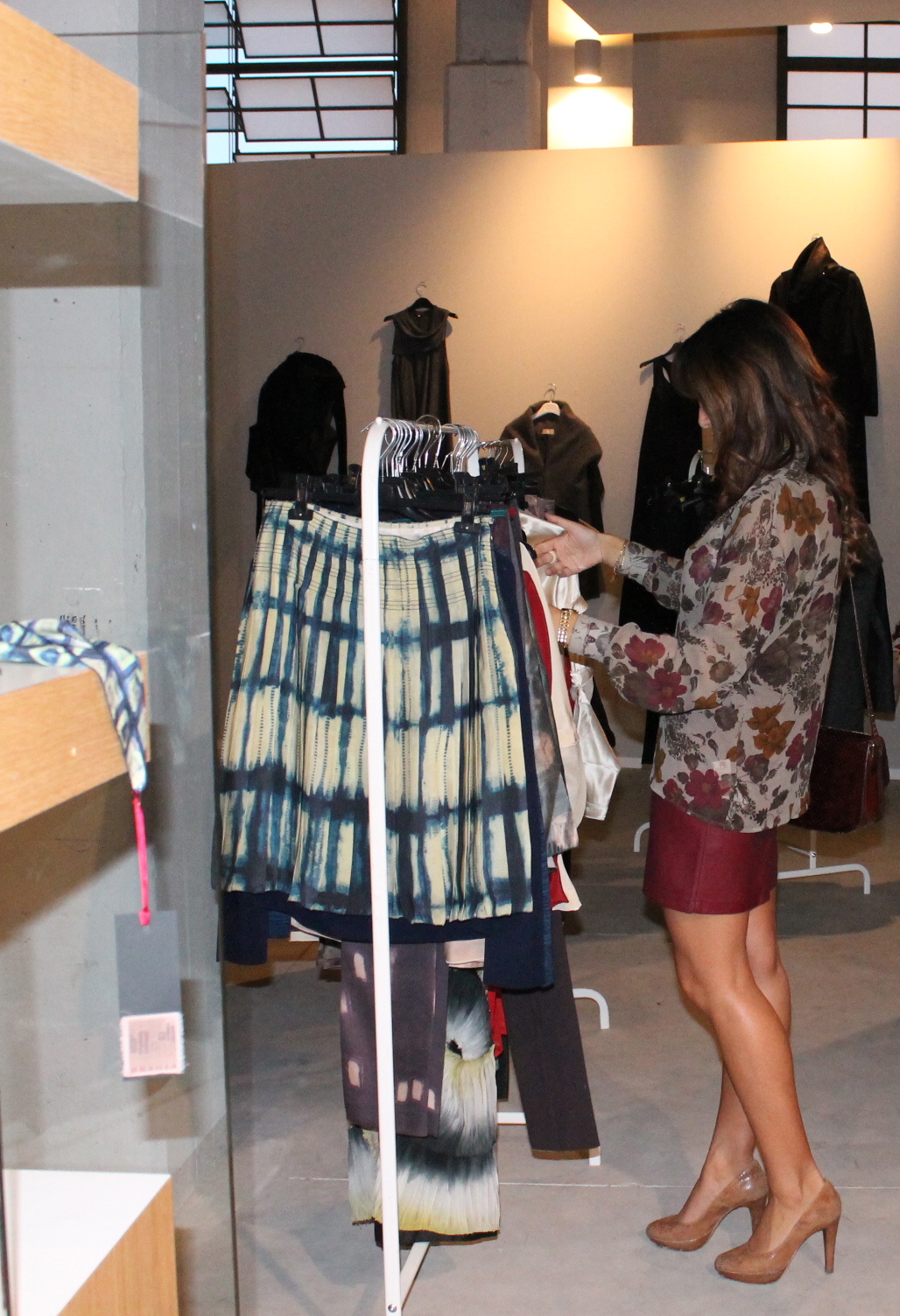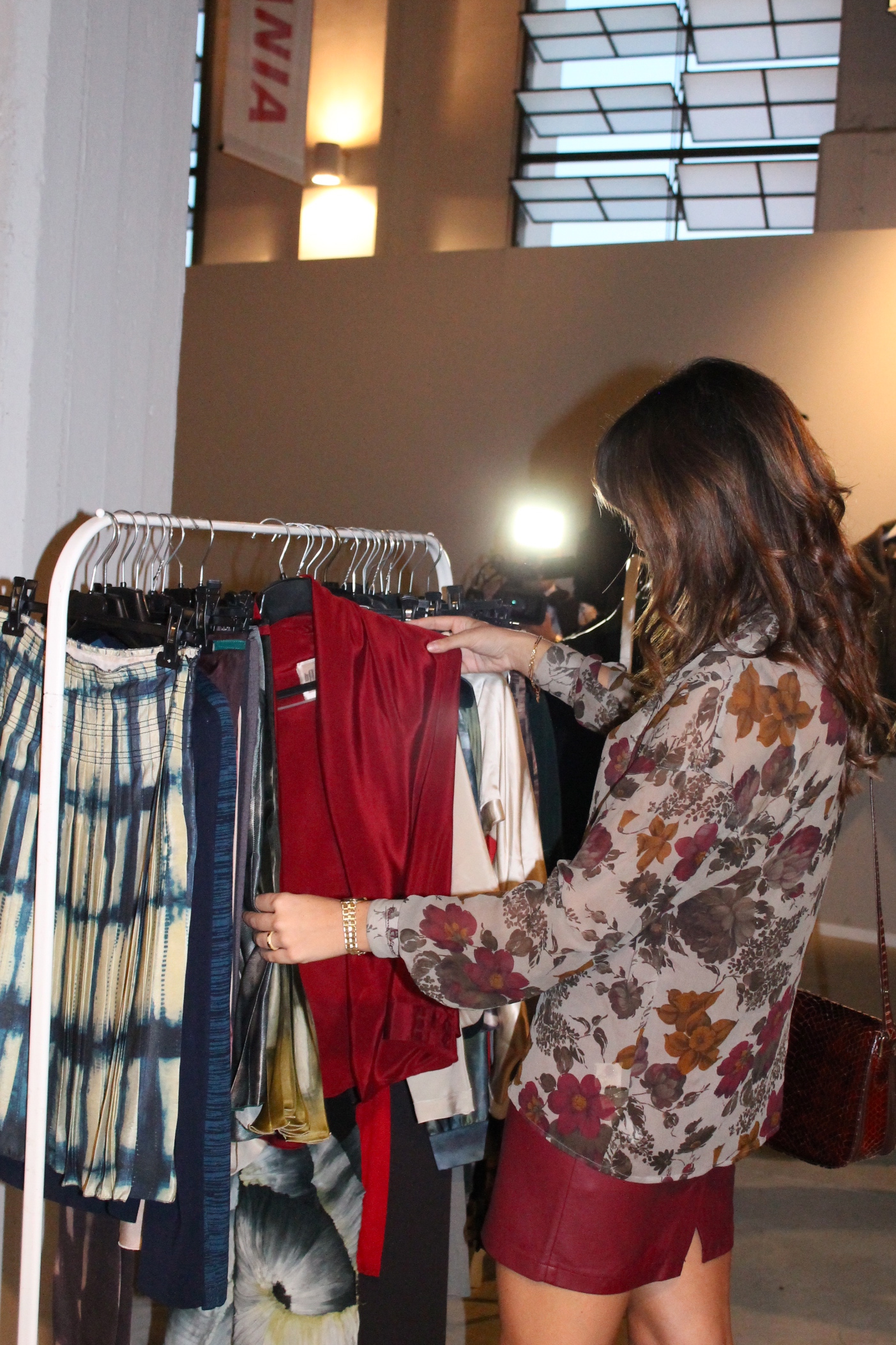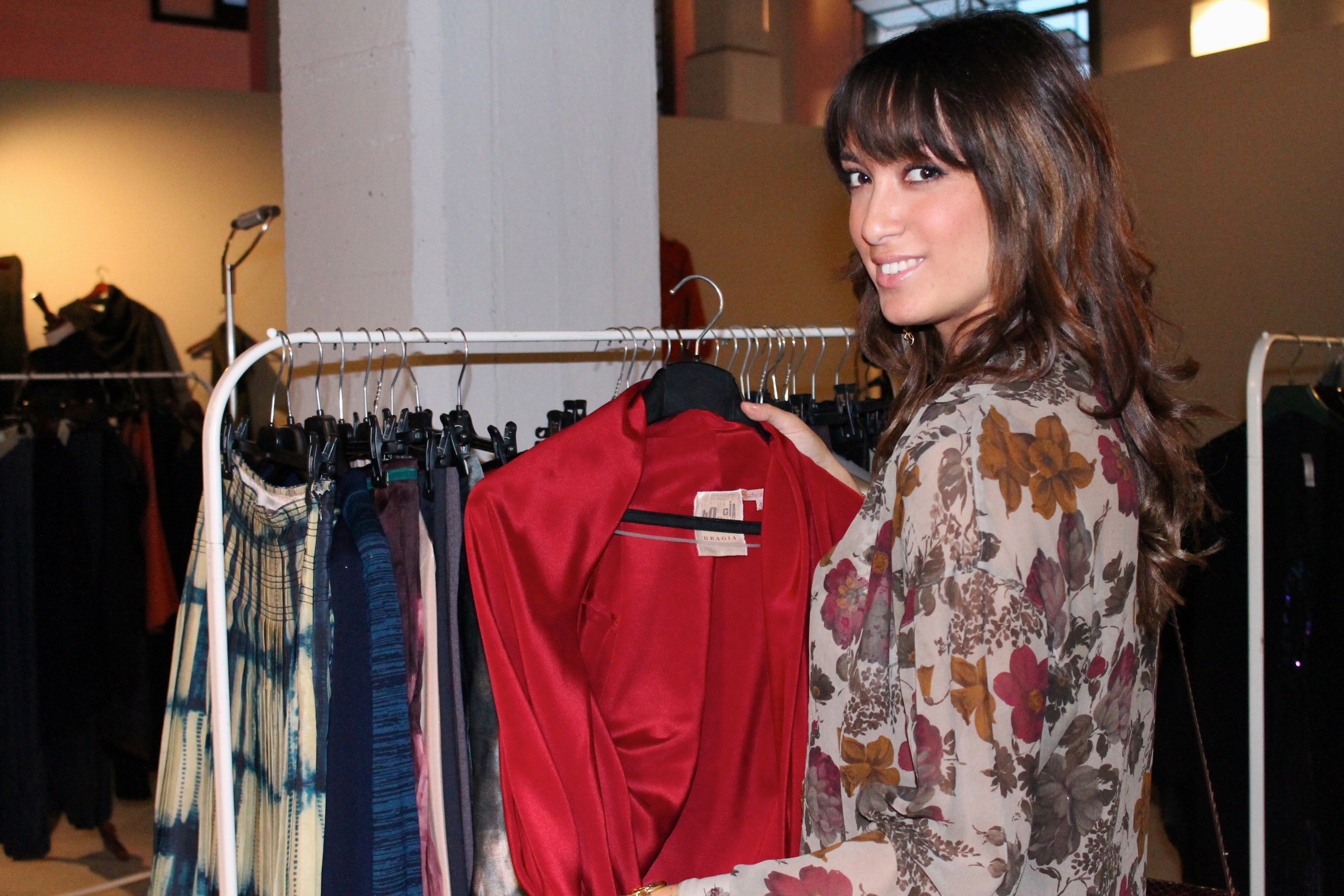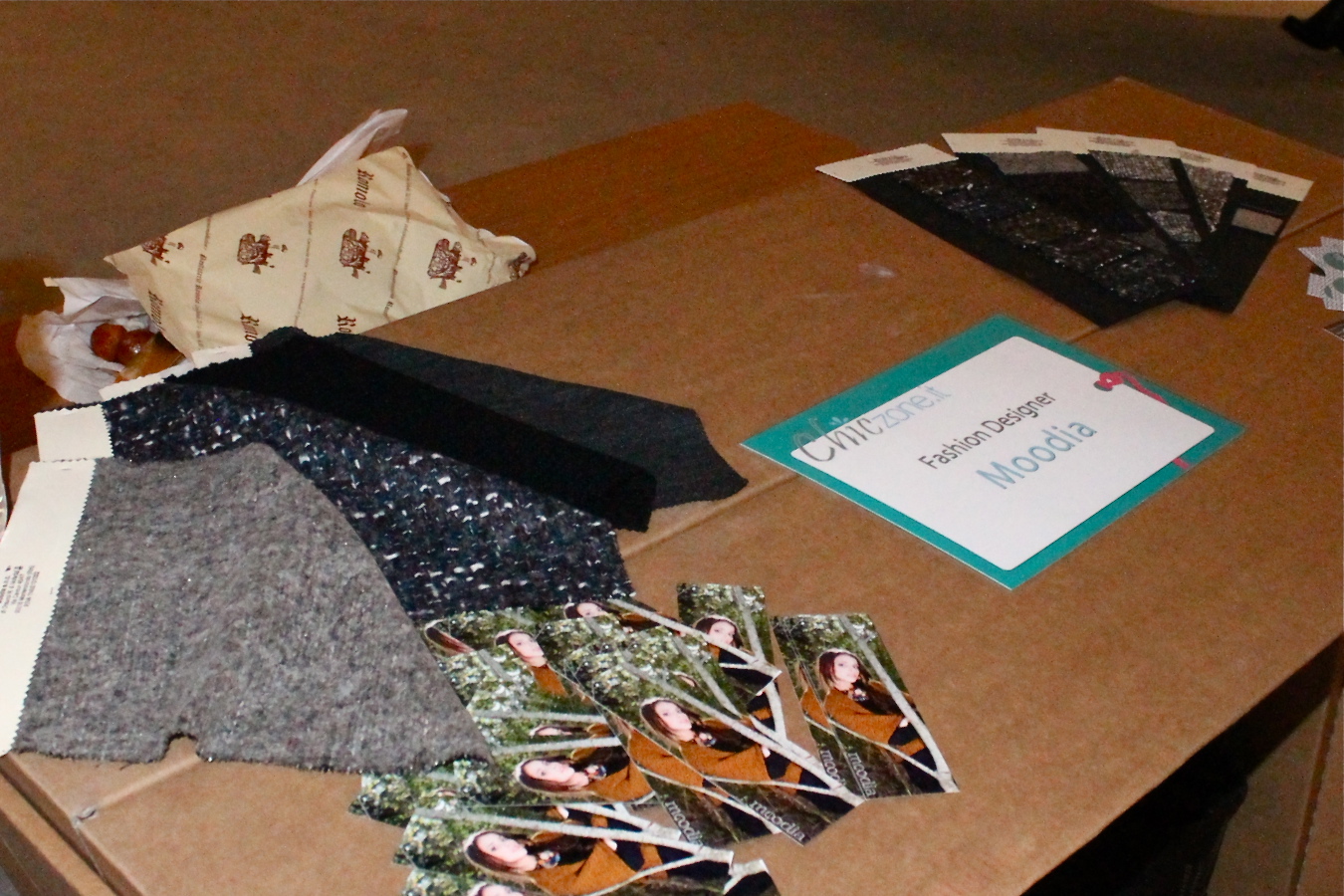 Tell me about your collection. The collection is made up of different tissues: elaborate and simple. We try to do things that can be used in several ways, such as a skirt, which turn can change the fabric and therefore be more elegant. Some of our clothes are made with two dresses included within the other, can be used separately. So buying a single item is like having three of these? Yes, three clothes in one. So that the customer buys one, but can mix in dressing. What is the theme of the collection? The theme are the interlacement, because, as you see, we have made several. And the colors? I see all very dark shades. Yes, for the winter except the orange that breaks a bit ', we used all colors of this kind. The materials? We added leather and wool made, try to find all Italian products by choice, because we do everything in our laboratory. The name comes from Moodìa…? Fashion of the day. Then there is this symbol of infinity… why we decided to dress a particular woman throughout her day, when the morning comes, until the evening when she takes an aperitif.

Parlami un po della vostra collezione. Allora, la collezione è formata da tessuti differenti, sia tessuti operati che tessuti più semplici. Cerchiamo di fare cose che possono essere utilizzate in più modi, ad esempio un cappotto double-face che diventa un piumino, o magari anche una gonna che girata può cambiare tessuto e quindi essere più elegante e viceversa. Alcuni dei nostri capi sono realizzati con due abiti inseriti uno dentro l'altro, utilizzabili separatamente. Quindi acquistando il singolo capo è un po' come averne presi tre? Be si, tre capi in uno. In modo tale che il cliente comprandone uno, se ne ritrova di più e può mixare nel vestire. Qual'è il tema della collezione? Il tema sono gli intrecci, proprio perché, come vedi, abbiamo realizzato intrecci di vario tipo. Ed i colori? Noto tutte tonalità molto scure. Si, per l'inverno a parte l'arancio che spezza un po', abbiamo utilizzato tutti colori di questo tipo. I materiali invece? Abbiamo inserito delle pelli e delle lane operate, cerchiamo di trovare tutti prodotti italiani per scelta, perché noi facciamo tutto all'interno del nostro laboratorio. Il nome Moodìa nasce da…? Moda del giorno, tendenza, giornate. Poi c'è questa sigla dell'infinito… perché abbiamo deciso di vestire una donna particolare in tutta la sua giornata, dalla mattina quando esce alla sera quando prende un aperitivo.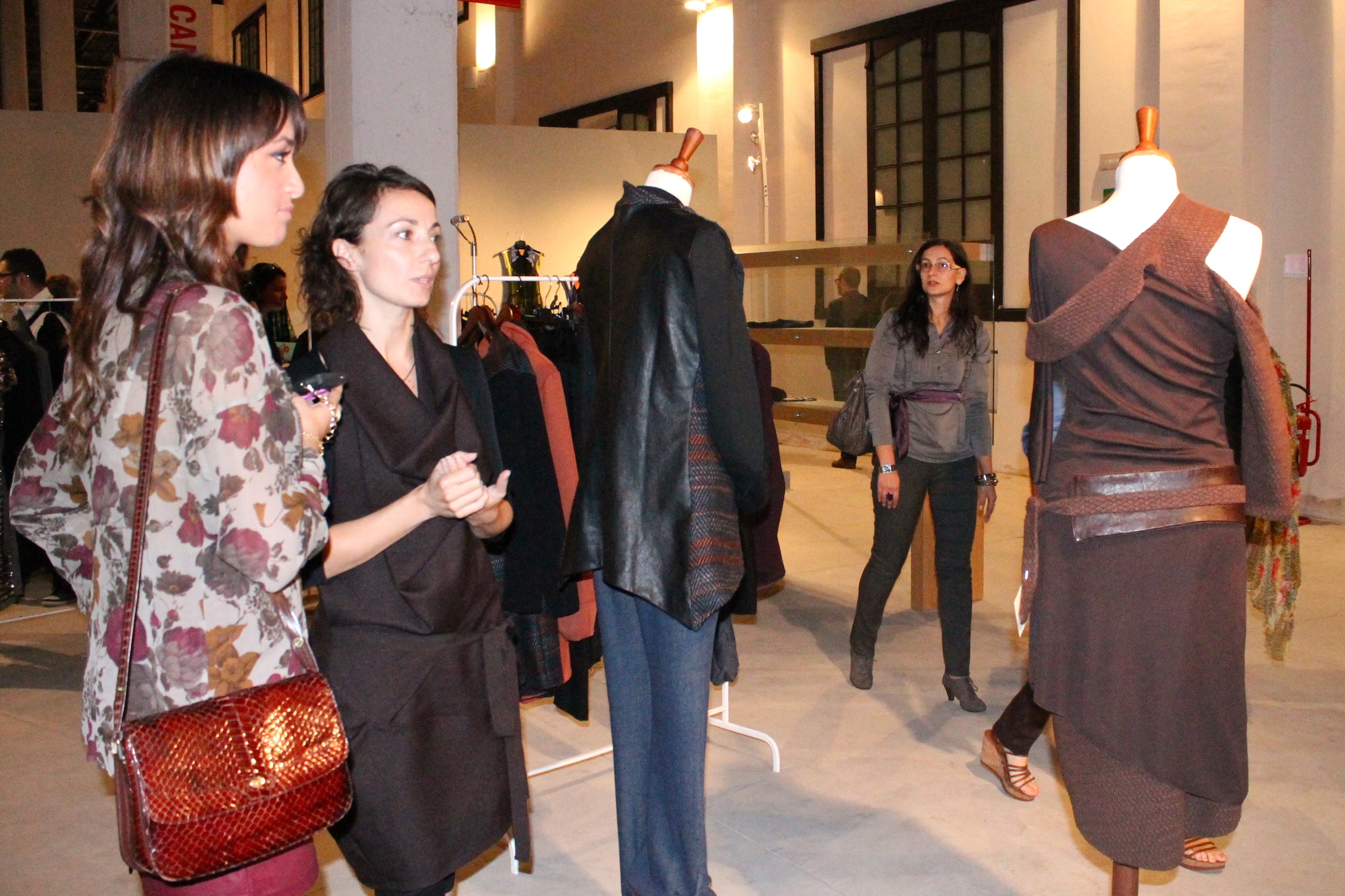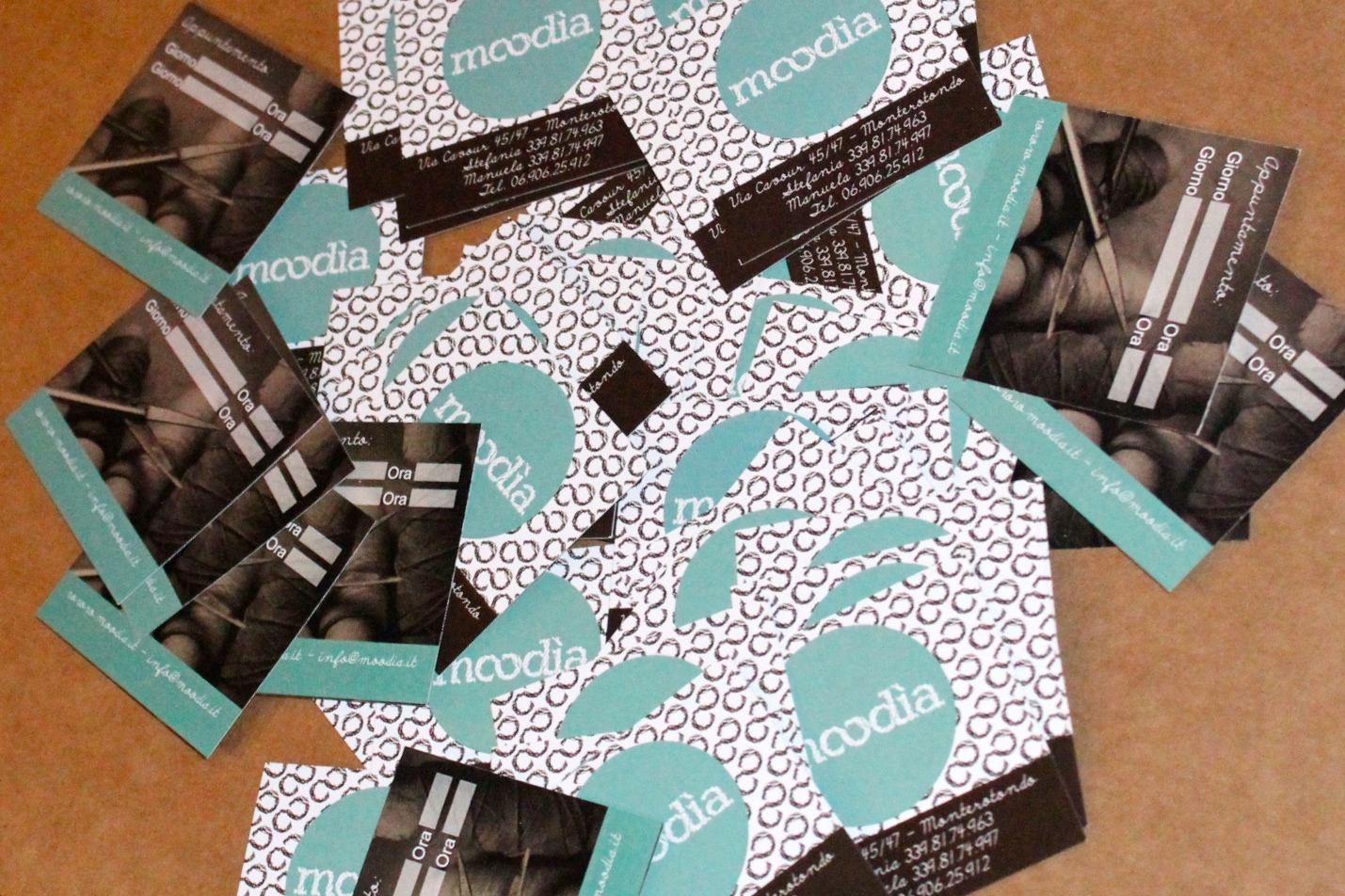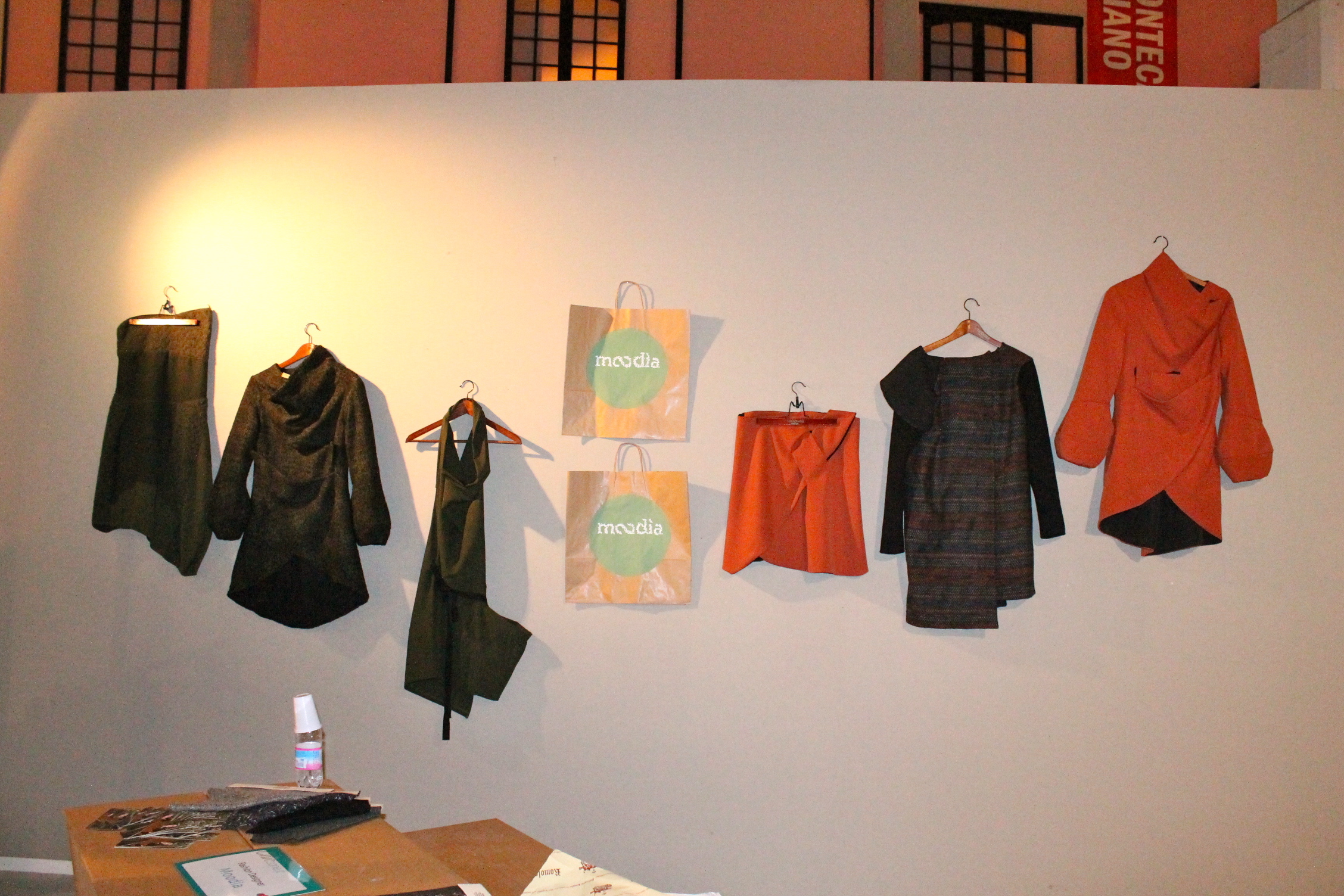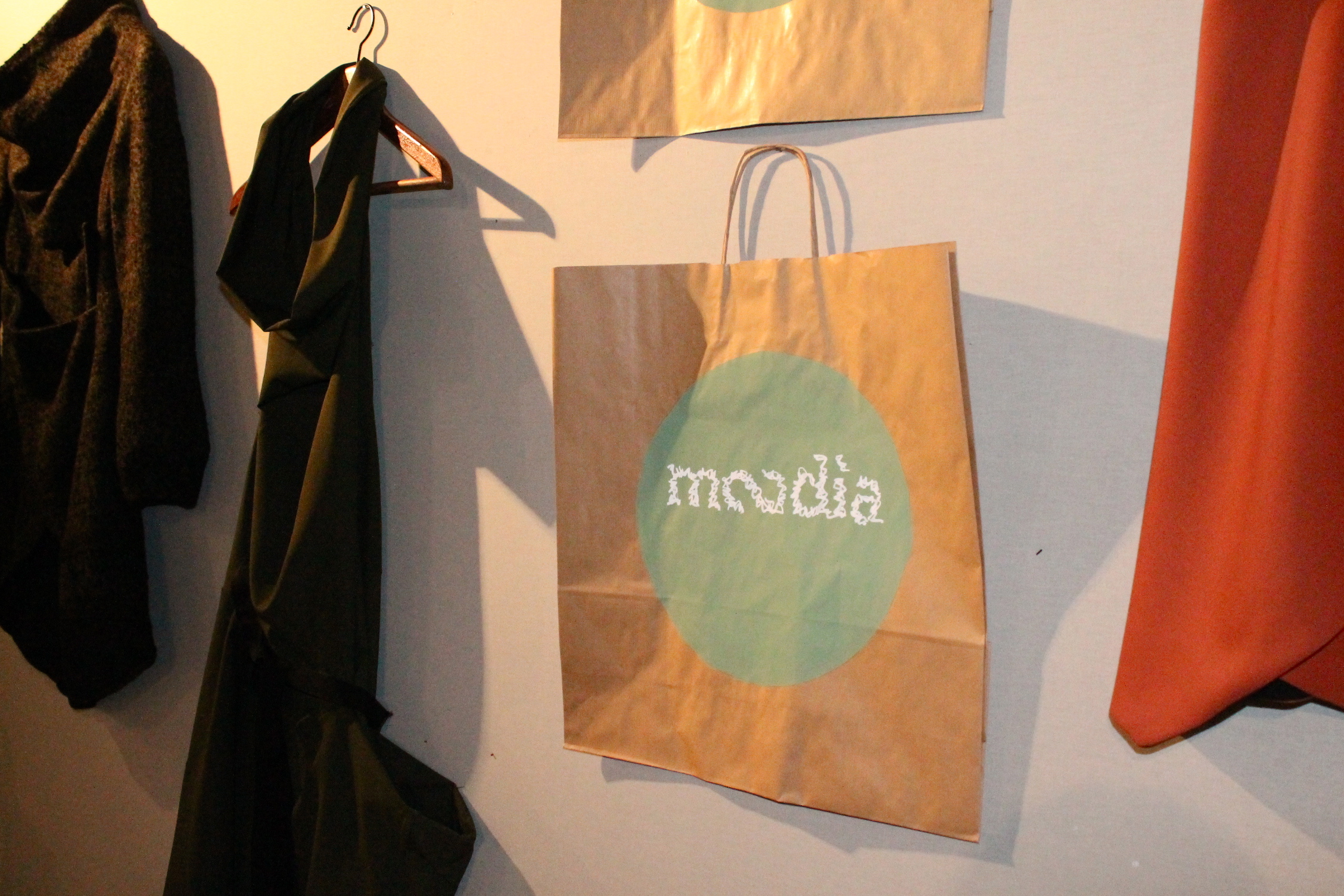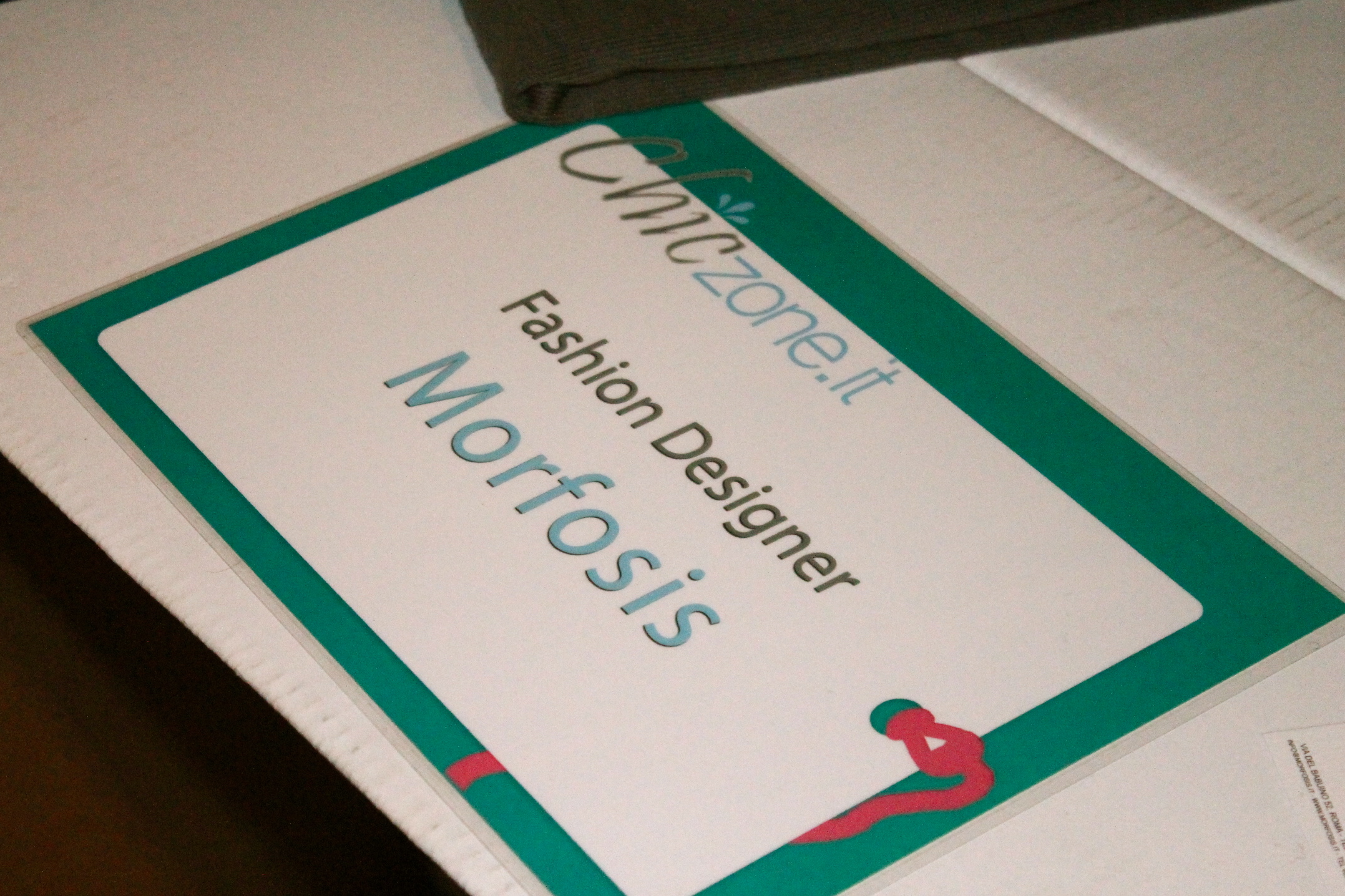 How it was born Morfosis? In reality everything is born from the passion that we have for wool, skin and fabrics. I see very simple and clean lines. Yes are linear but we soften proposed with the fluidity of the top, proposed with the coats more stringent and with different materials, such as wool mixed with the leather. We play a lot with the leather. So the materials are wool and leather? Wool and leather for coats, then silk, chiffon, georgette, organza, all declined in different weights. And these paillette? This is the speech Rapsody that we do in every collection and this time we liked the idea of giving a light shots proposing these things embroidered by hand.

Come nasce Morfosis? In realtà nasce tutto dalla passione che abbiamo per la lana, per la pelle ed i tessuti di qualità. Vedo linee molto semplici e pulite. Si sono lineari e quasi austere. Però le smorziamo con la fluidità dei top proposti con capi spalla più rigorosi e con i diversi materiali, come la lana mischiata con la pelle sempre più "forte". Giochiamo tanto con la pelle. Quindi i materiali sono la lana e la pelle? Lana e pelle per i capi spalla, poi seta, chiffon, georgette, organza, tutti declinati in pesi diversi. E queste paillette? Questo è il discorso Rapsody che facciamo in ogni collezione e questa volta ci è piaciuta l'idea di dare un colpi di luce proponendo queste cose ricamate, sono tutte ricamate a mano.