Next Stop: Chic Zone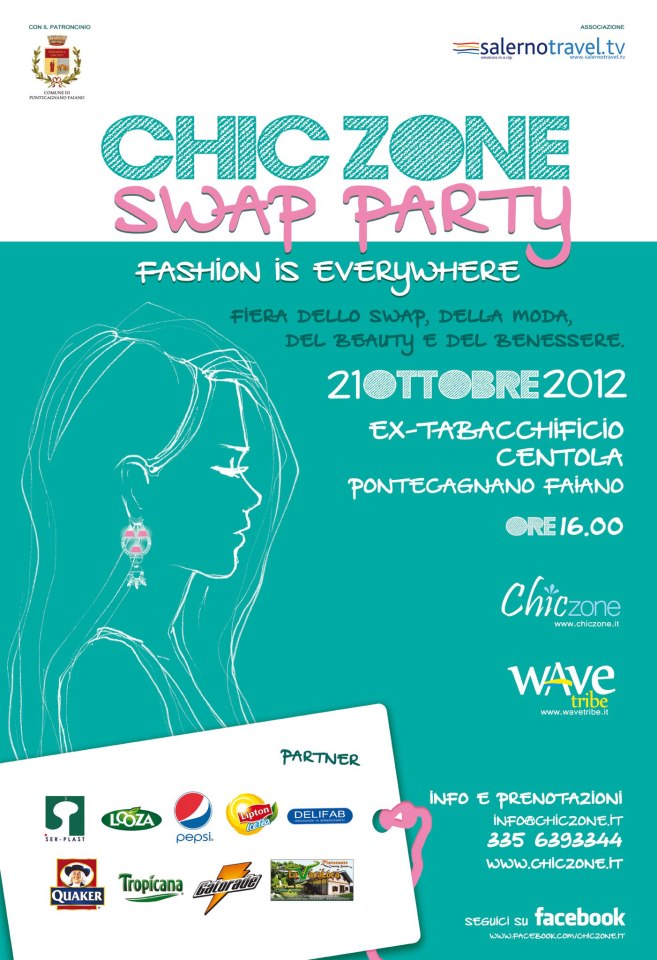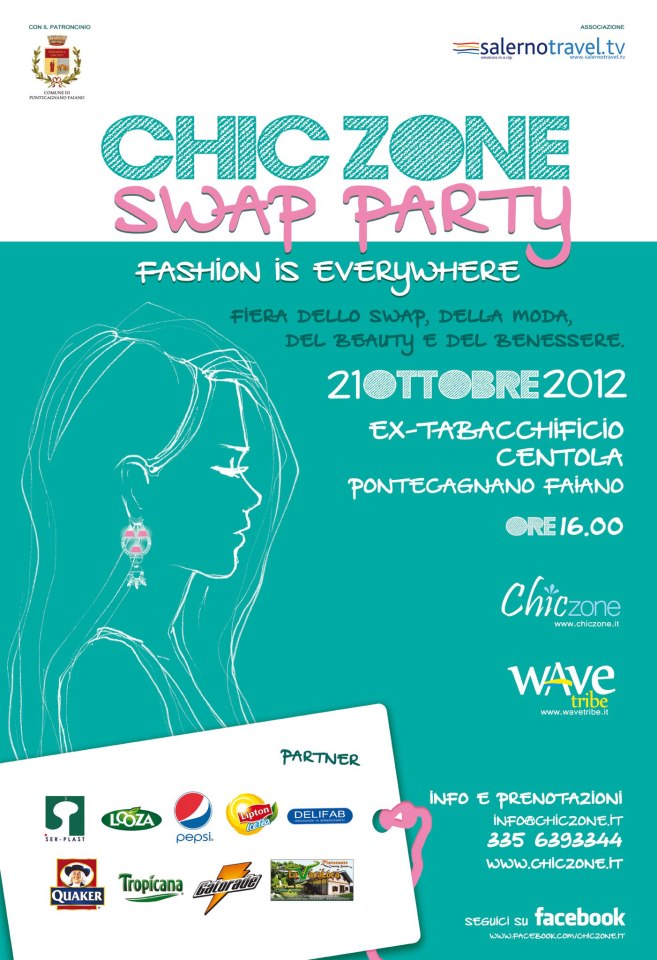 Today I will talk about my next step, the Chic Zone Swap Party: a mix of fashion, fashion shows, make-up, hairstyle, beauty, exchanges, personal shopper, photographic and painting exhibitions , performances and much more! This event, designed by Angela Albarano, will take place at Pontecagnano (Salerno) on October 21 starting at 4:00 p.m. and will feature two key moment. The first, at 18:00, is the Swap Party: a fun and inexpensive way to swap clothes and accessories that we closed in our closets (for info or to participate in the swap HERE). The second moment will begin at 19:30 with a fashion show1 of different fashion designers Rita Mazzeo b> and Alessandra Cappiello b> to Morfosis and Santo Costanzo b> and Alessandra Torella b> to Bragia, both finalists of "Who's On Next" (competition organized by Vogue b> and Altaroma b>), and finally the brand Moodìa, laboratory of ideas and experimentation. This is the part of the Chic Zone that concerns me, why? 🙂 Because, this fashion show will be connected to a contest that will award a prize to the best designer of the evening. The winner will be chosen by a jury of journalists and bloggers, of which I'm a member! It 's the first time for me and I'm very excited! Sunday evening you can follow me on social (especially on Instagram and Twitter) to enjoy live these moments with me. I think the choice will be fought, and I count on your support! Kiss!
Oggi vi parlo della mia prossima tappa, dello Chic Zone Swap Party: un mix di moda, sfilate, make-up, hairstyle, bellezza, scambi, personal shopper, mostre fotografiche e di pittura, esibizioni, performance e tanto altro! Questo evento, ideato da Angela Albarano, avrà luogo presso l'ex Tabacchificio Centola a Pontecagnano (Salerno) il giorno 21 ottobre 2012 a partire dalle ore 16:00 e sarà caratterizzato da due momento chiave. Il primo, alle ore 18:00, è lo Swap Party: un modo divertente ed economico per scambiare capi ed accessori che teniamo chiusi nei nostri armadi (per info o per partecipare allo swap cliccare QUI). Il secondo momento clou inizierà alle ore 19:30 con una sfilata che vede protagonisti diversii fashion designer: Rita Mazzeo e Alessandra Cappiello di Morfosis e Santo Costanzo ed Alessandra Torella di Bragia, entrambi finalisti di "Who's On Next?" (concorso realizzato da Vogue e Altaroma), ed infine il marchio Moodìa, laboratorio di idee e sperimentazione. Questa è la parte dello Chic Zone che mi riguarda più da vicino, perché? 🙂 Praticamente, questa sfilata sarà collegata ad un concorso che assegnerà un premio al migliore stilista della serata. Il vincitore verrà scelto da una giuria di giornaliste e blogger, della quale faccio parte! E' la prima volta per me e sono molto emozionata! Domenica sera potete seguirmi sui social (soprattutto su Instagram e Twitter) per vivere in diretta questi momenti con me. Credo che la scelta sarà combattuta, quindi conto sul vostro supporto! Un bacio!