How Was I Born?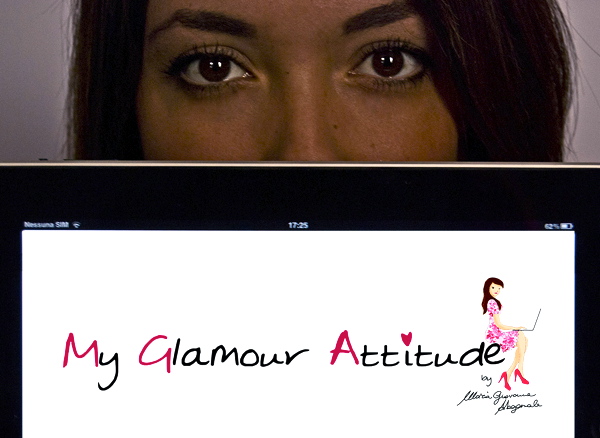 What I wanted was a simple and effect logo, which contained all my facets. With the help of my friend Eugenio De Riso, graphic/author of my logo, we decided to focus on the initial of my name!!
Quello che cercavo era un logo semplice ma d'effetto, che racchiudesse in se tutte le mie sfaccettature. Grazie all'aiuto del mio amico Eugenio De Riso, nonché grafico/autore del mio logo, abbiamo deciso di puntare sulle iniziali del mio nome!
From here began the search for a name, easy to remember and memorize. Here it born:
Da qui è iniziata la ricerca di un nome d'effetto, facile da ricordare e memorizzare. Ecco allora che nasce:


characterized by a color much used in the world of women and, not coincidentally, also one of my favorites:
caratterizzato da un colore molto usato nel mondo femminile e, non a caso, anche uno dei miei preferiti:
In addition to adding color, another characterization was to add my
digital signature
:
Insieme all'aggiunta di colore, un'altra caratterizzazione è stata quella di aggiungere la mia firma digitale:
and so so here the logo My Glamour Attitude:
ed ecco così il logotipo My Glamour Attitude:
But something was still missing to make it recognizable and identifier. So I decided to personalize it with me stess, with
my caricature
!
Ma mancava ancora qualcosa per renderlo riconoscibile ed identificativo. Quindi ho deciso di personalizzarlo con me stessa, ovvero con una mia caricatura!
Choice which versions to use, we decided to develop the
business cards
:
Scelta quali delle versioni usare, abbiamo deciso di sviluppare i biglietti da visita:
We hope that our work and our ideas we liked you. We expect a comment. Kiss!
Speriamo tanto che il nostro lavoro e le nostre idee vi siamo piaciute. Aspettiamo di conoscere il vostro responso. Un bacio!
Thanks to Eugenio De Riso for the photos, HERE you can see his project on Behance.