A Touch of Orange on a Windy Day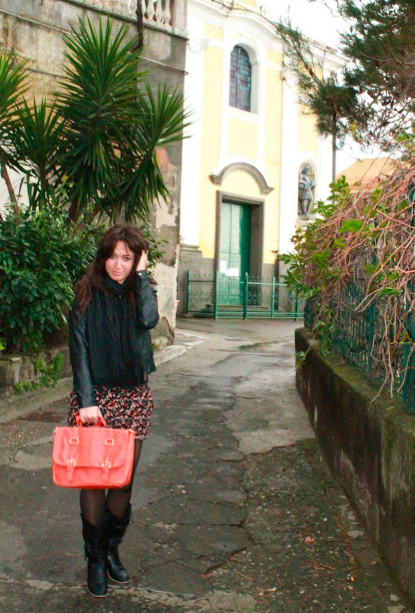 Grey. Now this is the color that accompanies the last days here in Naples. The rainfalls continuously since yesterday morning... Unfortunately, my mood depends greatly on the weather and so you can imagine how I feel! = (Today I am dedicated to me a morning of shopping at the mall. I went to H&M and I bought some nice things,including the bag that you see in this outfit! I decided to wear it immediately, to give a little 'color to this day! I combined with the short flowers, always H&M, similar tones.You like it? I'm waiting for your opinions! Like you wear?
PS: Do you like my new hair color?
Grigio. Ormai è questo il colore che accompagna le ultime giornate qui a Napoli. La pioggia cade ininterrottamente da ieri mattina… Sfortunatamente, il mio umore dipende molto dal clima e quindi vi lascio immaginare come mi sento! =( Ieri, per ammazzare il tempo e tirarmi un po' su, mi sono dedicata una mattinata di shopping al centro commerciale. Sono stata da H&M; ed ho acquistato delle cose carinissime, tra cui la borsa che vedete in questo outfit! Ho deciso di indossarla subito, per dare un po' di colore a questa giornata! L'ho abbinata a degli short a fiori, sempre di H&M;, dalle tonalità simili. Vi piace? Aspetto i vostri pareri! Come la indossereste voi?
PS: Vi piace il mio nuovo colore di capelli?